HIGH QUALITY KITCHENS IN DEVON
Whatever your lifestyle and personal taste, we are passionate about offering you the choice, quality, and style that will enable our designers to create the perfect design for you which is professionally fitted with the care and attention all our projects deserve.
Take The Next Step & Book A FREE Discovery Call
Wondering where a discovery call with PB Home Solutions could take you? Click the button to learn all about our complimentary virtual introduction calls...
Whatever your lifestyle and personal taste, we are passionate about offering you the choice, quality, and style that will enable our designers to create the perfect design for you which is professionally fitted with the care and attention all our projects deserve.
CREATING PERFECT HOMES FOR DEVON
At PB Home Solutions we are passionate about creating you the very best kitchen, bedroom or bathroom possible. Our stunning designs are tailored to your individual needs and tastes for a superbly practical space that looks fantastic. Having been based in Seaton for almost 20 years, we have earned an excellent reputation, creating wonderful interiors for our local Devon clients. You can trust PB Home Solutions to provide beautiful quality kitchens, bedrooms and bathrooms.
IMMACULATE KITCHEN DESIGN IN DEVON
Kitchens are no longer just places to prepare meals, they are the life and soul of our homes. They provide a space to entertain, to work, to play, to cook and to relax. With so many requirements to balance, having a kitchen designer that truly understands your lifestyle and tastes is crucial to finding the perfect kitchen. Our experienced and skilled team of designers are dedicated to listening to your needs as well as understanding how to get the most out of your space. With a beautiful range of modern and traditional styles to choose from and the advice and support of our specialist team, PB Home Solutions guarantee you a kitchen you'll love for years to come.
PB Home Solutions' supply a fantastic range of top-quality appliances from cutting-edge technology to budget-friendly products. Our kitchen design experts can help you select the best appliances to suit your home and lifestyle. Our sister company Devon Appliances stock an exhaustive range to cater to every desire in terms of looks and functionality.
Relax and unwind in a luxurious bathroom tailored to you. With a range of contemporary and classic styles, PB Home Solutions can cater to your individual taste to create a gorgeous design. We are committed to providing quality products and outstanding attention to detail, so you can rest assured you'll be relaxing in no time while you admire your perfect new bathroom. Bathrooms are sometimes an afterthought, however, at PB Home Solutions, we'll ensure your bathroom is both stylish and practical.
OUR DEDICATED TEAM SERVING DEVON
At PB Home Solutions we pride ourselves on our friendly and knowledgeable team, who are proud to be serving Devon. All of us are completely committed to supporting our clients every step of the way to create bespoke interior solutions. Experts in the industry, we have worked hard to build our reputation, sourcing excellent quality products in the latest styles. Our designers are creative and talented in crafting beautiful and practical interiors. Darren, Josh and Craig are our valued fitters, between them they have over 40 years of experience in every aspect of installation from plumbing to tiling. We trust them completely to provide exemplary services for flawless results. Find out more about wonderful team by clicking here.
RECEIVE A WARM WELCOME AT OUR DESIGN STUDIO IN DEVON
Come and meet our friendly team at our boutique Seaton Design Studio. We would be delighted to introduce ourselves and find out more about you and your project. Experiencing our kitchens and interiors first-hand is the best way to appreciate their superior quality and finish. Get a feel for the different styles available and let our experienced designers inspire you. Whether you prefer to browse at your leisure, or you would like some design advice, our cosy Seaton studio is the perfect place to start.
We dream of a luxurious, quiet space to rest and relax, yet so often our bedrooms can end up cluttered and chaotic. At PB Home Solutions we understand that creating enough storage without overwhelming a room with furniture can be challenging. Our skilled designers are experts in planning bespoke fitted bedrooms around you and your needs. With high-quality modern and traditional styles, we have the perfect solution for a beautiful and practical bespoke bedroom.
WITH YOU EVERY STEP OF THE WAY
Our passionate team are here to support you throughout every step of your Devon home transformation, be it your Kitchen, Bedroom or Bathroom. Get to know your friendly local team by stopping by our Seaton design studio where you'll be welcomed in to chat and browse. When you're ready we can book you in for an appointment to thoroughly discuss all your requirements and wishes. For a smooth and hassle-free process, our experienced team take care of everything from measuring your space through to a seamless installation. At PB Home Solutions we understand communication is key, and that's why we keep you informed at each stage of the process to make sure you're always in the know. Our dedication and years of experience ensure satisfied customers every time.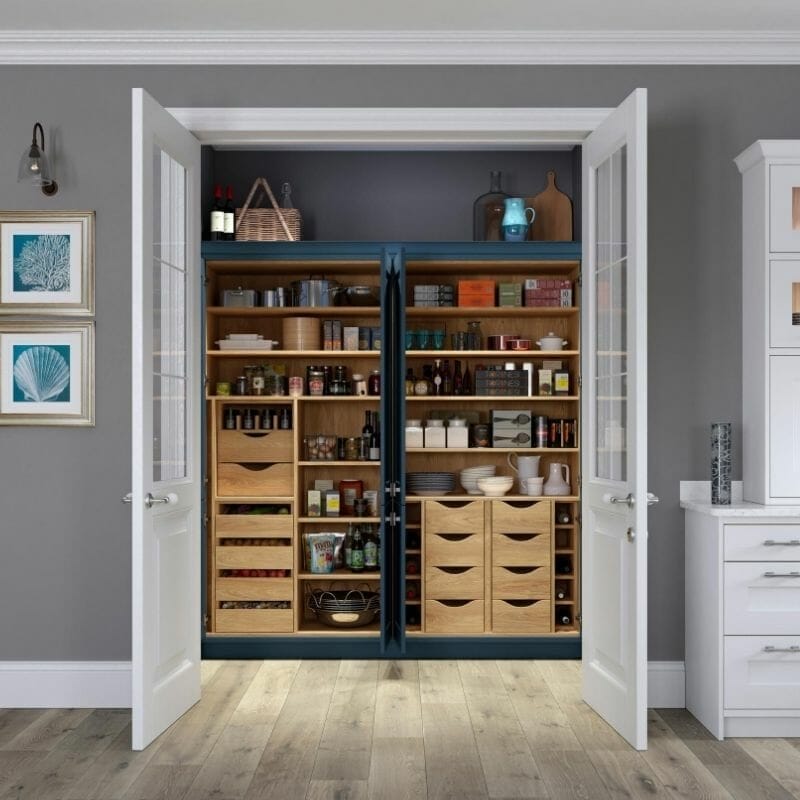 Find out how PB Home Solutions can transform your space by calling our friendly team on 01297 22559. We will be happy to answer any questions you may have or if you have some ideas you'd like to run past us we'd love to hear from you. Alternatively, start your project now by booking a design appointment by clicking the button below.