BEAUTIFUL BATHROOMS IN EXETER
Transform your Exeter bathroom with a stunning bespoke interior designed and installed by your trusted specialists PB Home Solutions.
BATHROOM DESIGN & INSTALLATION IN EXETER
Of all the spaces in your Exeter home, your bathroom is perhaps one of the most complex to transform. Not only is your bathroom a practical space, but it is also a wonderful place to relax and unwind at the end of a long day, so it's important that your new interior lives up to expectations both in terms of looks and functionality.
Creating a sleek, practical bathroom that stands up to everyday use requires a combination of specialist expertise, quality products and precise installation. However, achieving a beautiful space that transports you to an oasis of calm demands a personal and creative touch. At PB Home Solutions, our talented team bring their exceptional skills into perfect harmony to create stunning Exeter bathrooms that provide years of enjoyment and relaxation.
OUTSTANDING QUALITY EXETER BATHROOMS
With so much concealed pipework and plumbing, the last thing you need is to end up damaging your beautiful new interior in order to replace a faulty product. At PB Home Solutions, we have been designing and installing outstanding Exeter bathrooms for many years and know that quality is of utmost importance. We have carefully selected a range of the most durable and reliable products for you to choose from, which alongside our highly skilled installations, ensures your interior stands the test of time for many years to come.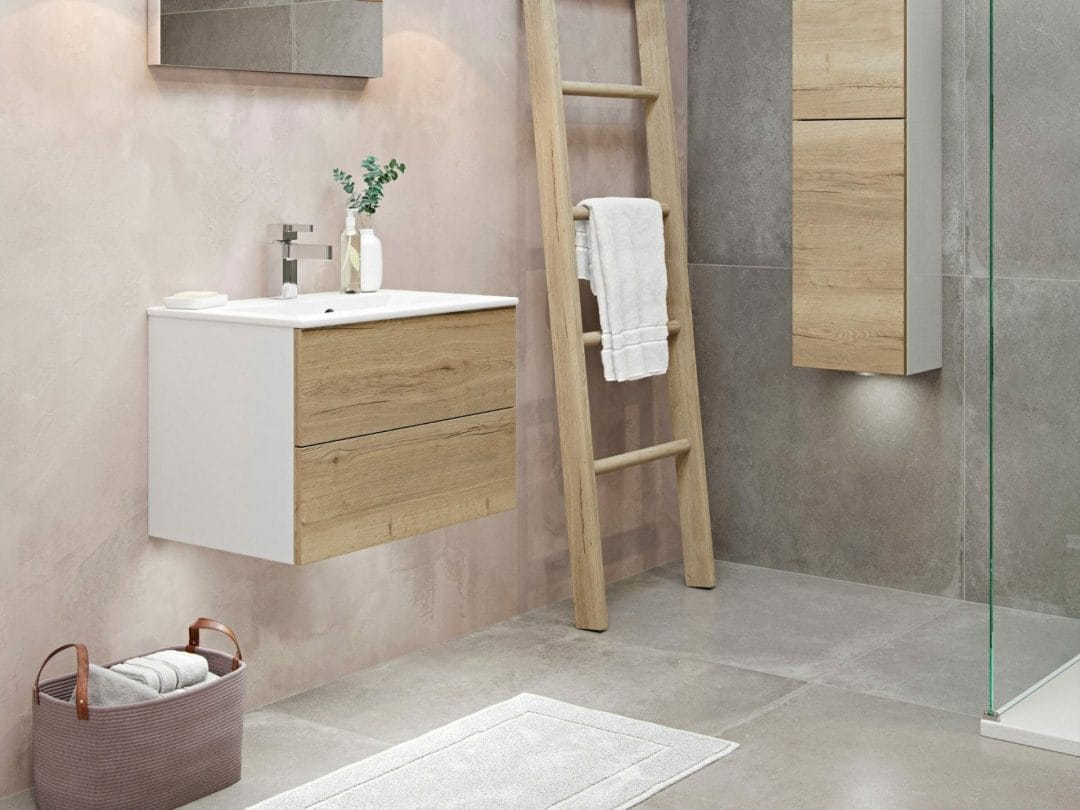 YOUR SPECIALIST BATHROOM DESIGN TEAM
The majority of our team have dedicated their entire career to the design and installation of beautiful bathrooms and home interiors. Needless to say, we are truly passionate about what we do. Our eye for detail and our appreciation of exquisite craftsmanship ensures our interiors are a cut above the rest. We pride ourselves on being part of our local community, knowing that we can walk down the high street with our heads held high. When you work with the wonderful PB Home Solutions team, you can expect the same friendly and honest service that our local clients have come to know and love.
BESPOKE EXETER BATHROOMS TAILORED TO YOU
Whether you need plenty of storage for keeping your toiletries organised and out of sight, or you've always dreamt of creating a luxurious minimalist walk-in shower, our experienced team will work closely with you to create a design that's everything you'd hoped for and more. We will take the time to understand your vision as well as the practical capabilities you require from your space in order to develop a stunning design that maximises your room while perfectly capturing your individual style. We love seeing our customers delighted with their new bathrooms and leave no stone unturned in our pursuit of your ideal interior.
PRACTICAL EXETER BATHROOMS THAT LAST
Although our superb bespoke Exeter bathrooms represent amazing value, a luxurious, high-quality interior can still be considered a substantial investment. And when you make a conscious decision to invest in quality, you should rightly expect your finished space to last for many years to come. At PB Home Solutions, all our stylish bathrooms are designed to stand the test of time. From our exquisite products to our skilled professional installations, we go to great lengths to ensure our fantastic bathrooms are as durable and practical as they are stunning.
GORGEOUS MODERN & TRADITIONAL DESIGNS
Your bathroom is your private retreat from the stresses and strains of everyday life, and how you choose to decorate your interior is entirely down to you. We have selected a beautiful range of modern and traditional styles for you to choose from and are always keen to work with you to add your own bespoke design features. You can find out more about our gorgeous bathrooms by clicking below.
OUR DESIGN STUDIO NEAR EXETER
Our charming Seaton showroom located just off the main high street is where we bring our beautiful bespoke bathrooms to life. Our cosy studio is the ideal place to sit down and explore the ideas you have for your space over a coffee or a cup of tea. Our knowledgeable team would be delighted to talk through the possibilities awaiting your Exeter home. We have several elegant displays to experience, which demonstrate the superb quality of our products, as well as the exceptional attention to detail of our installation team. If you're looking for inspiration for your latest project, don't hesitate to plan your visit now by clicking the button below.
SPEAK TO OUR FRIENDLY TEAM
Facing new and exciting challenges each day is what makes our job worthwhile, and so, if you have any questions or ideas you'd like to discuss regarding your upcoming bathroom project, we'd absolutely love to hear from you. You can arrange a design appointment to speak with our fantastic team now by clicking the button below.