From embracing a relaxing Friday night pamper session to enjoying a seamless morning routine, who doesn't dream of transforming their bathroom into a sumptuous personal sanctuary? Whether you're planning to update a busy family bathroom or an efficient en-suite, there are plenty of ways to add a little luxury to your design without sacrificing practicality. Below are six fantastic ideas to help take your new bathroom to the next level.
Embrace A Calming Neutral Colour Palette
White and blue are two of the most popular bathroom colour choices. And though they can make your space look fresh, bright, and lovely and clean, they often feel a little cold. Opting for neutrals with warmer undertones, like off-whites and stony greys or beige will leave your bathroom looking airy and modern whilst feeling calm and cosy. The marble-effect porcelain tiles in the bathroom below bring an extra touch of understated luxury to this tranquil interior.
Or Introduce Moody Monochrome Finishes
Alternatively, if you're keen to make a bold design statement and embrace something more modern, why not consider going for a dark and dramatic scheme? Black interiors are very much on-trend at the moment. And though a black bathroom might sound daunting, combining black décor with softer natural finishes and warm lighting will give your interior a chic and sumptuous feel. Darker hues work well in small spaces as they help blur the edges of a room, creating a sense of depth and giving your bathroom a real wow factor. If you prefer something a little less striking, introducing simple matte black fittings will bring a sophisticated, contemporary edge to your design.
Select A Luxurious Heritage Hue
When it comes to the bathroom, we often shy away from rich, highly saturated colours. However, as the design below goes to show, introducing a vibrant and characterful hue to your bathroom can make your space feel much more homely, inviting and really rather special. This gorgeous heritage green accentuates the period features of the room beautifully, establishing an opulent and intimate atmosphere. We also love the stylish upholstered accent chair. This unexpected addition immediately brings a luxurious edge to the design.
Don't Be Afraid To Incorporate Wood
Due to its poor water resistance, wood is often considered a no-go in the bathroom. But it really shouldn't be! There are lots of clever materials available to help you achieve that charming natural look without compromising practicality. Wood-finish porcelain tiles are ideal for both walls and floors, while waterproof LVT and laminate make an excellent choice of flooring. Incorporating wood finishes into your bathroom design is a fantastic way to soften your scheme and create a calming, spa-like ambience.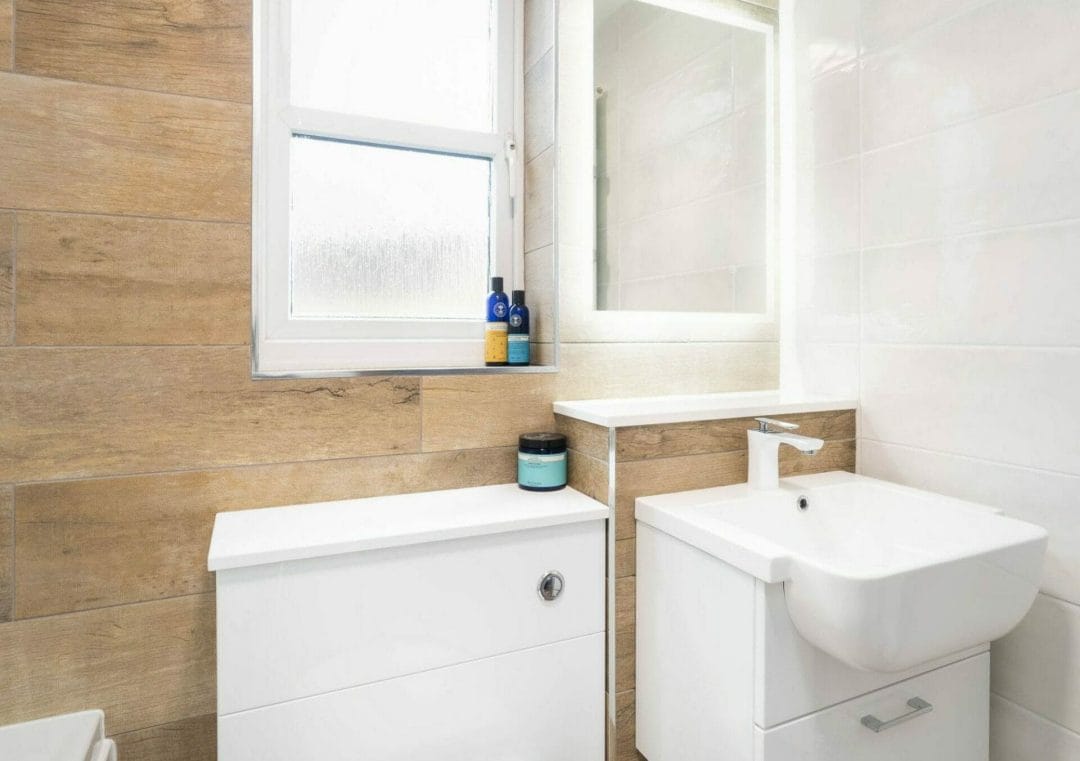 Utilise Lighting To Create A Sumptuous Ambience
Whether you're renovating your living room or bathroom, lighting is easily overlooked, with colour schemes, fixtures, and finishes taking centre stage. Despite this, lighting undeniably offers one of the best opportunities to inject a little luxury into your design. As well as standard ceiling lighting, consider adding accent lighting such as wall sconces, a light-up vanity unit, or LED strip lights. Incorporating soft glowing accent lighting into your interior will give your bathroom a beautiful, cosy ambience.
Keep Your Space Clean & Clutter-Free
No matter how stylish and sophisticated your design is, your bathroom will never quite hit the mark if every surface is strewn with toiletries. Keeping your space clutter-free is vital to creating a relaxing atmosphere and ensuring your new bathroom looks its best. Therefore, you'll need to make sure you incorporate plenty of clever storage solutions into your design. Mirrored vanities and under-sink cabinets are ideal. Shelves, niches, and freestanding furniture also offer a useful place to store toiletries and display ornaments.
Don't let your new bathroom fade into the background and simply become the invisible setting of your morning routine. These simple design ideas will transform your space into a stunning spot to relax and enjoy taking some time to yourself. If you would like to discuss your plans with our expert team, we would love to hear from you. Please call us on 01297 692250 or email [email protected].