Over the course of the year, we have seen some stunning kitchen design ideas develop and grow in popularity, some of which have built upon fantastic existing trends and some present fresh and exciting new potential. While of course, your kitchen must stand the test of time, taking inspiration from the most stylish current features is a wonderful way to create an elegant and timeless interior. Our experts have put together their top 6 kitchen ideas from 2021 to give you some inspiration for your new project.
Sophisticated Dark Cabinet Colours
In recent years we have become much braver when it comes to introducing colour to our kitchens and for good reason, a tasteful colour scheme will help give your kitchen a beautifully distinctive flair and charming personality. Deep and luxurious shades are the top choice for creating a sophisticated and high-end interior, with gorgeous forest green being 2021's favoured dramatic hue. Charcoal greys, navy blues and moody plums are also stunning options for establishing an elegant dark kitchen colour scheme.
Sleek Handleless Kitchens
With more of us opting for open-plan interiors, the ability to streamline our kitchens with the rest of our homes has become increasingly desirable. Handleless kitchens are a great choice for open-plan living as their clean lines and lack of extraneous detailing allows them to seamlessly integrate with the more comfort orientated features of a living space. Not only do they look incredibly stylish, but they also offer fantastic storage potential and smooth functionality for a remarkably practical and elegant kitchen space.
Beautiful Natural Finishes
The cultural focus on sustainability and the environment has distinctly filtered into the world of design, with natural materials making beautiful features in the latest kitchen interiors. The sublime textural characteristics of natural wood and stone finishes add a layer of depth to any kitchen. A dark mottled stone effect introduces cutting-edge drama while a soft wood tone brings an inviting touch of warmth and tranquillity. Establish a unique ambience within your new space by introducing natural finishes to your design.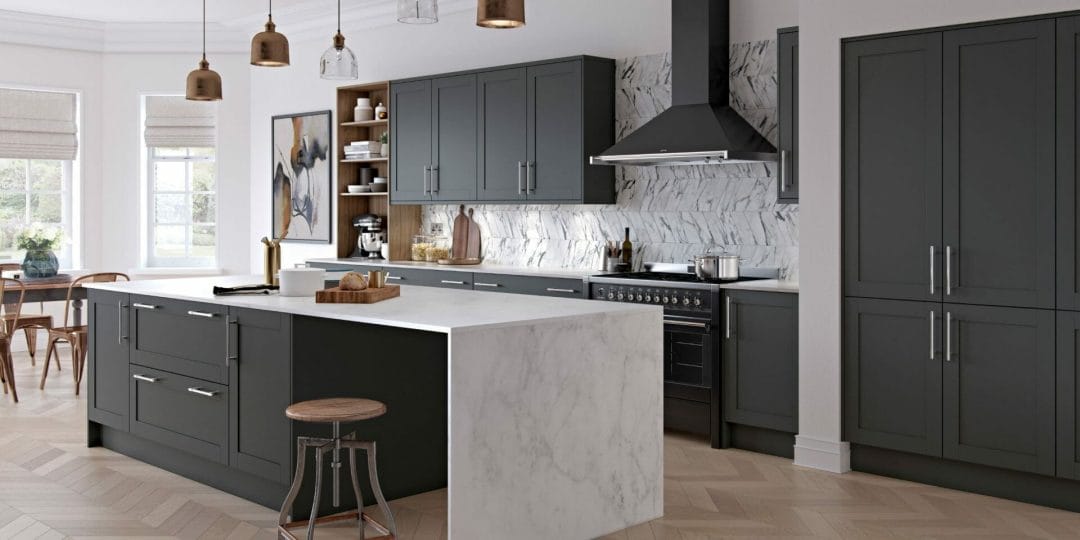 Achieve the Perfect Balance with Two-Tone Colour
A more relaxed approach to introducing colour to our interiors has encouraged a move towards two-tone colour schemes. A two-tone effect solves many of our client's concerns when it comes to adding colour to their design. For example, you may have been tempted by the sophisticated looks of darker cabinetry but are worried a bold colour might overwhelm your space, consider using the deeper shade to emphasise a design feature such as a kitchen island. Keeping the colour below the eye line creates a subtle detail whilst allowing you to showcase your chosen accent colour. Two-tone designs are a wonderful opportunity to add depth and character to your space, pair similar stylish tones for an eclectic look or creating a striking impact with contrasting hues.
Luxurious Metallic Accents
Gold, brass or copper details are a stunning way to elevate the look of your interior by adding a touch of luxury and sophistication. Warm metallic fittings contrast gorgeously with darker colour schemes as well as beautifully complementing a soft neutral palette. Choose stylish gold taps to match your cabinet handles and even go a step further by including a corresponding statement light fixture.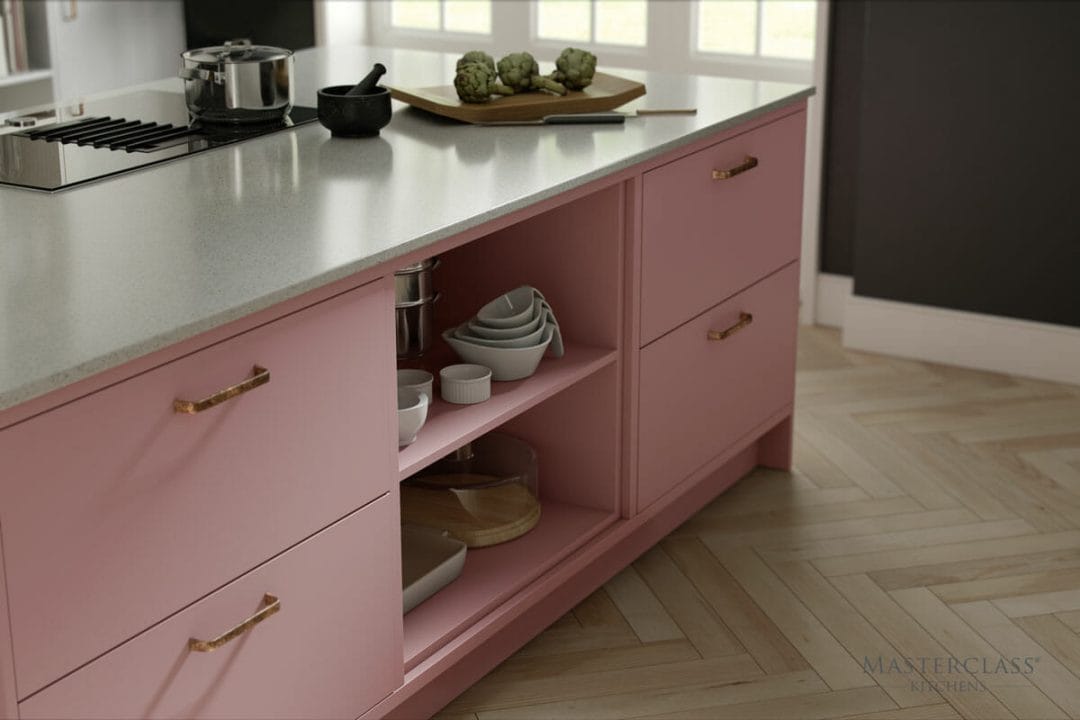 Transformational Smart Appliances
Kitchen appliances have experienced huge advancements in the past couple of years and smart technology looks set to be a firm feature of future kitchen interiors. Get ahead of the curve by including the latest kitchen technology in your new space. Ovens, refrigerators and even your coffee machine can be controlled from your phone so you can check what you've got in the fridge while you're doing your shopping, turn the oven on to get dinner started while you're at work and wake up to a fresh cup of coffee every morning. If mobile operated appliances aren't for you, you can still transform the functionality of your kitchen with some extraordinary appliances.
Creating a kitchen that you'll love for years to come is all about balancing gorgeous and timeless style with exceptional practicality and looking to some of the latest trends for inspiration is a great place to start. Our experts at PB Home Solutions have called upon their years of experience to highlight some of the ideas that are set to last so you can create a stylish yet timeless interior. If you'd like to find out more about how PB Home Solutions can help create your perfect kitchen please don't hesitate to get in touch with our friendly and knowledgeable team, you can call our Seaton design studio on 01297 692250 or email [email protected].