Keeping your bathroom tidy and clutter-free is a must. Not only will it help to ensure your new space stays looking its best, but it will also make your bathroom quicker and easier to use and keep clean. From towels to toothpaste and loo rolls to lotions, there are plenty of bathroom essentials that you will need to store. Depending on the size of your space, you might need to get creative with your storage solutions.
At PB Home Solutions, we're experts in designing and installing stylish and practical bathrooms, and we specialise in finding innovative solutions to maximise your space. To give you some inspiration on how you can get the most out of your new bathroom, we've put together this guide exploring some of our most ingenious bathroom storage tips.
Create A Wall Of Built-In Storage
If you have a more spacious bathroom and you want to capitalise on including as much storage as possible in your design, then dedicating a single wall to an elegant arrangement of built-in furniture can be a great option. Introducing fitted storage from wall to wall will create a seamless look, resulting in a luxurious and relaxed atmosphere. As well as providing plenty of storage, you can also utilise fully-fitted cabinetry to conceal your toilet cistern, leaving an attractive ledge to position plants and decorative details.
Add A Shower Niche
Another ingenious way to add extra storage to your new bathroom is to include a bespoke shower niche. Set into a stud wall, a stylish shower niche makes a wonderful spot to store towels and toiletries while giving you the opportunity to add character to your space with a decorative arrangement of plants or ornaments.
Choose Wall-Hung Cabinets
In a more compact bathroom, wall-hung cabinets can make a fantastic choice. Keeping your floor area clear and uninterrupted will cleverly create the illusion of more space. Undersink vanities offer a great way to make use of a part of your bathroom that would otherwise be wasted. Slimline wall-mounted cabinets are a sleek and unobtrusive way to achieve the storage capacity you need. With their small footprint, ladder shelves are also a great way to introduce additional storage without intruding on your all-important floor space.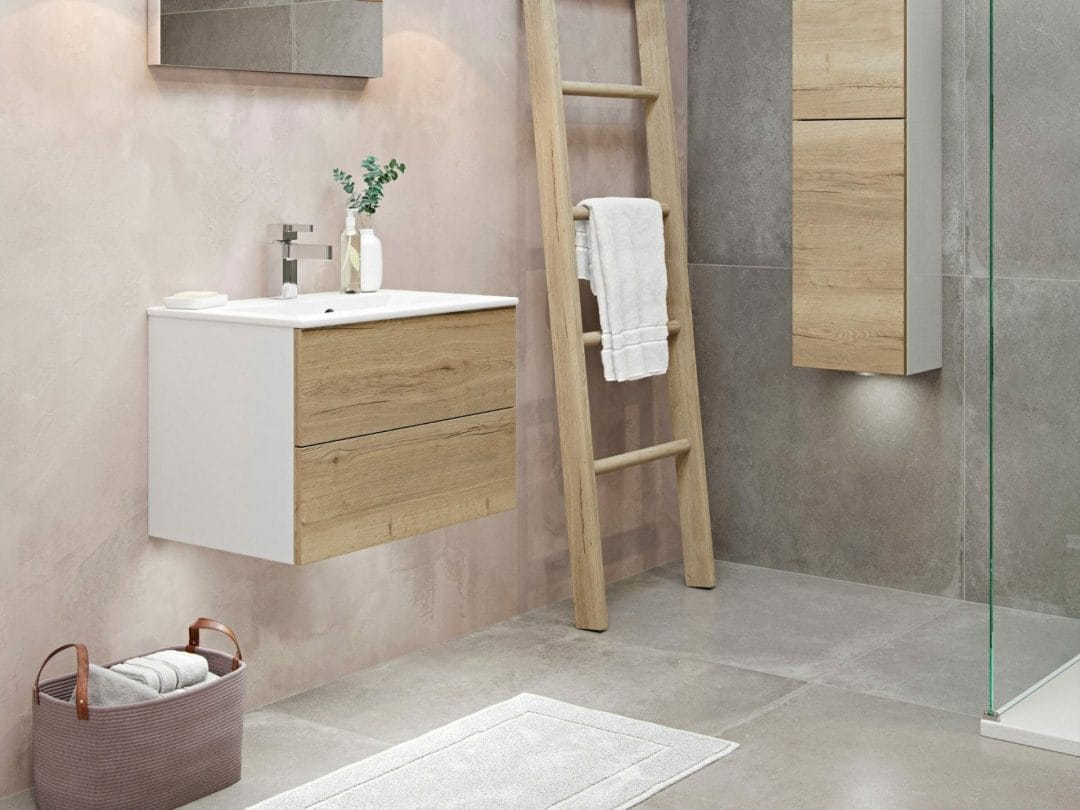 Use A Storage Basket
While keeping your floorplan as open as possible is an excellent technique to achieve a feeling of space, smaller decorative storage details like a basket or small stool can make an impressive impact when it comes to adding a touch of luxury.
Build Sleek Shelving
Just like a built-in shower niche, introducing open shelving to your bathroom is a wonderful way to combine functionality and style. Simple floating bathroom shelves are ideal for displaying your favourite toiletries alongside a luxury candle or even beautifully decanted cotton pads or bath salts. Unlike a specially designed shower alcove, bathroom shelves can be easily added to any part of your bathroom.
Hide Toiletries In A Mirrored Vanity
From razors to medication, we all have small items that we don't necessarily want to leave on show in our bathrooms, and that's where a slim mirrored vanity comes in handy. Doubling up as a practical bathroom mirror, a mirrored vanity is ideal for keeping smaller items organised and tidy. Choosing an elegant design with integrated lighting will undeniably elevate rather than detract from your beautiful new bathroom interior.
Make Use Of Every Inch
Regardless of the size of your bathroom, one of the best ways to maximise your interior is by opting for smart storage solutions that utilise often overlooked spaces. Specially designed drawers that fit around your basin waste trap enable you to conveniently store smaller items. Extra slim cupboards can be ideal for storing towels and loo rolls. When it comes to creating a practical bathroom, ensuring storage is easily accessible is just as important as quantity.
Your bathroom and how you use it is unique to you and your family, and so when it comes to designing your new interior, you will need to give some thought to your individual requirements. Having a clear idea of what you need to store will enable you to plan the types of storage best suited to your needs, leaving you with a practical and stylish bathroom that's a pleasure to relax in. If you'd like to get more advice on bringing your perfect new bathroom to life, please don't hesitate to get in touch with our friendly and knowledgeable team of professionals. You can call us on 01297 692250 or email [email protected]. Or click here to plan a visit to our Devon design studio.