Kitchens are such a wonderful and vibrant part of the home; they draw guests in with their charm and often provide a hub for the whole family to gather to catch up on the day's events. However, where would we be without the superb appliances that make them so inviting, be that the aroma of a delicious meal or the lure of a freshly brewed cup of coffee? Kitchen appliances are undeniably at the heart of the space and, what's more, they can account for a sizeable portion of your budget, so choosing wisely is very important. At PB Home Solutions, we partner with our sister company Devon Appliances to bring you the latest most reliable products to your Kitchen in Devon. Their friendly team would be more than happy to discuss your options, but to give you a head start, we've created this blog with some tips on what to consider when choosing your appliances.
Which Kitchen Oven Is Right For You?
There are several factors that will influence your choice of oven aside from just cooking capacity. Of course, bigger families or avid cooks who cater to groups will want to consider either a double oven or an even larger range cooker. Different ovens come with different features including self-cleaning functions, steam cooking abilities and various cooking modes. If you are a passionate cook and are looking to invest in an oven with amazing versatile functionality, a state-of-the-art modern built-in oven is a great choice.
Contemporary built-in ovens and range cookers also vary dramatically in terms of their looks and so you will want to consider how this might impact your overall kitchen design. Range cookers create a characterful focal point to a room, with Rangemaster's colourful options providing a classic vintage feel while Belling's sleeker chrome design is a more versatile statement piece. Built-in ovens are ideal for those looking to create a more streamlined look and have added practical benefits when installed at eye-level.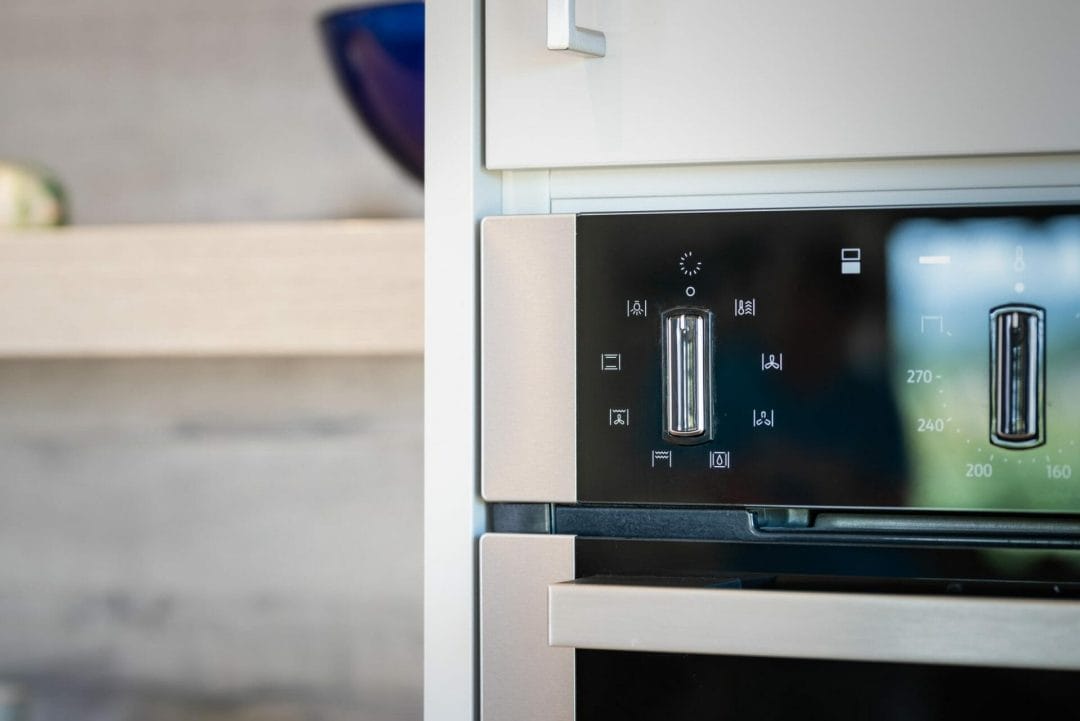 Choosing A Kitchen Hob
When it comes to buying a hob, the main consideration is choosing between gas, electric and induction, all of which have their own pros and cons that you will need to weigh up based on your lifestyle and needs. Induction hobs are a very popular choice. They use electromagnetic coils to heat the pan rather than the hob which makes them more responsive and much safer than their electric counterparts. However, they are only compatible with iron based cookware so you may need to invest some of your budget in a new set of pans. Gas hobs are known for their superbly responsive cooking and they have the added benefit of being the most affordable to run. Electric hobs are easy to install and easy to wipe clean making them one of the most convenient choices. If you really can't decide, you can opt for a domino design that allows you to combine different fuel types and cooking surfaces on one hob.
Don't Forget Your Cooker Hood
It's easy to overlook the cooker hood, however, they provide an absolutely essential role in the kitchen, not only making sure your home remains free of cooking odours but also ensuring excess moisture doesn't damage your property. There are two available methods of extraction. Ducted extractor hoods draw steam and smoke through a vent to an external outlet, whereas recirculating cooker hoods filter the air before distributing it back into your kitchen. Ducted cooker hoods are more effective, however, they can only be mounted on an external wall due to the ventilation mechanism.
There are a few choices when it comes to the visual design of your cooker hood with the classic chimney style being the most common. Classic chimney extractor hoods are available in a variety of designs ranging from the more modern and stylish to the cool and industrial. Ceiling mounted extractors are ideal for placing above a kitchen island, while integrated designs will seamlessly tie in with your choice of kitchen cabinetry.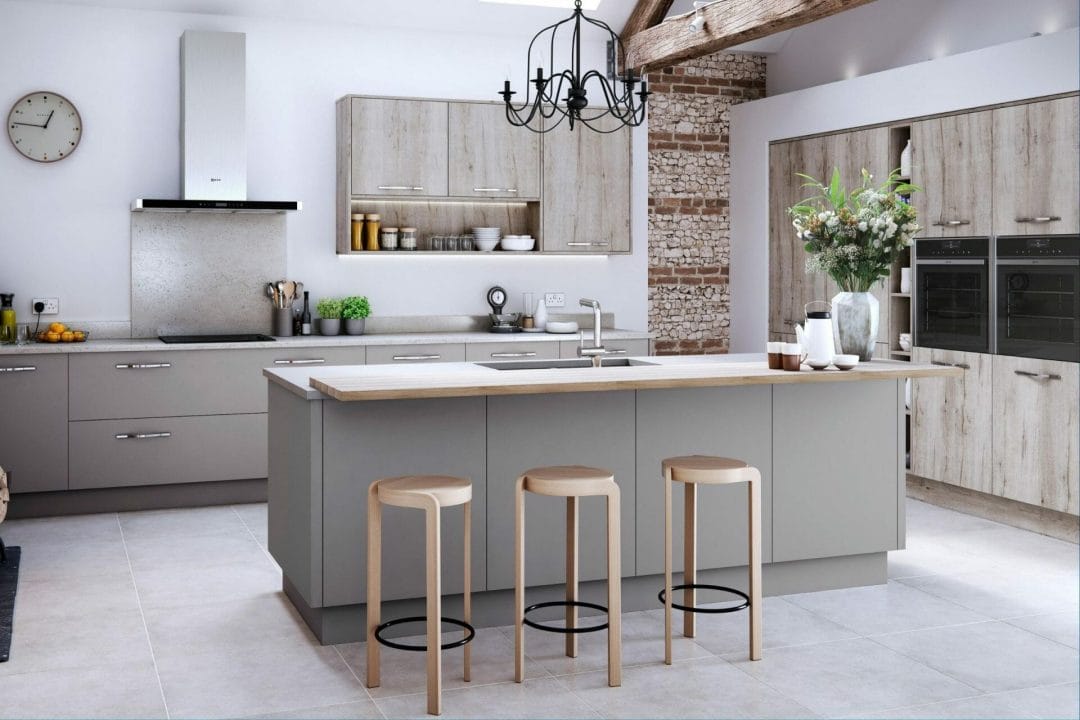 How To Choose A Fridge/Freezer
The most popular choice when it comes to refrigeration is the classic full-height fridge-freezer. For most small families or for couples who are keen cooks, a standard 60cm fridge will provide adequate space. Different designs can give you a different proportion of freezer to fridge storage so you will need to consider which you need most. Opting for an integrated fridge won't interrupt the look of your kitchen, whether you prefer something ultra-modern and clean, or elegant and traditional.
A spacious American-style fridge freezer can in fact make a rather stylish kitchen feature when factored into your design and of course, will provide much greater storage capacity. If you're worried a larger fridge will compromise your cupboards space, bear in mind that many items you might usually store in your cupboards such as condiments or drinks can also be kept in the fridge.
Add Some Luxurious Extras
Once you have come to a decision about your kitchen appliance essentials, there are a few more luxurious additions you might want to consider. In fact, you might even want to think about saving some money on your essential appliances to put this towards some wonderful extras!
In-built coffee machines offer a fantastic touch of luxury and sophistication and if you're a coffee lover then you shouldn't be without one. Bean to cup models are the top choice for true coffee aficionados.
A deluxe wine cooler is a practical choice for those who love entertaining… or for those who love wine of course. Free up space in your fridge (a must during the festive season) and impress your guests with a rather glamorous wine cooler.
Slightly less luxurious but certainly no less useful are the microwave and dishwasher. Both are handy features to have in your kitchen and are available in built-in styles for a more sleek appearance. You might be able to fit a slimline dishwasher into your space if you haven't space for a full width model.
When it comes to choosing the best kitchen appliances, you will ultimately need to think about two essential things, your lifestyle and the look and feel of your kitchen. You might also want to consider prioritising your budget in some areas, for example, you might choose a lower-spec oven in favour of a safer and more efficient hob. What's perfect for you will likely be completely different from someone else, and that's why at PB Home Solutions we offer as much advice and support as we can to help you make the right decision. If you'd like to find out more about the kitchen technology we offer, you can click here to explore Devon Appliance's website or to discuss your project call our friendly team on 01297 692250 or email us at [email protected].