The allure of a cosy and relaxed kitchen can be hard to resist, making it the ideal place to pore over a crossword or catch up with friends. Thus, there's much more to creating a great kitchen lighting scheme than just making sure you can see to cook. Giving some thought to your lighting can elevate your kitchen into a sophisticated and inviting space to share with family and friends. To ensure your lighting scheme maximises both style and practicality, you'll need to consider your options carefully. We've gathered all the advice and inspiration you should need in this helpful article. If you have any other questions, our knowledgeable team will be happy to help.
When Should You Start Planning Your Kitchen Lighting?
If you don't want your lighting to deliver the underwhelming results of an all-too-common afterthought, you'll need to consider your options as soon as you start planning your kitchen. Once you have decided on style and layout, you can begin coordinating your lighting scheme around your design. Strip lighting can work beautifully with shelves, alcoves or beneath cabinets. An island or dining table looks great when illuminated by eye-catching pendant lights. Once you give it some thought, you'll discover countless opportunities to enhance your interior.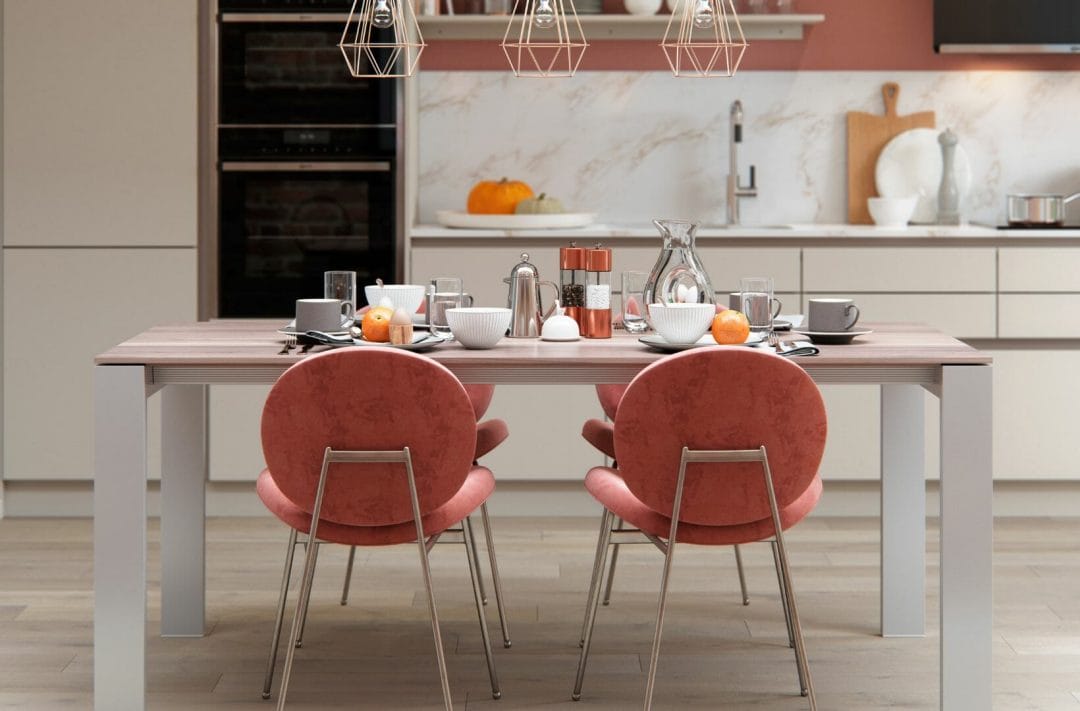 What Are The Main Types Of Kitchen Lighting?
There are three main types of kitchen lighting; ambient, task and accent. Though these categories can sometimes overlap, they offer an excellent framework on which to base your design.
Ambient– Ambient lighting casts light throughout the whole space. It provides the general level of light needed to see and navigate the room. Most ceiling lights like downlights, track lights and pendants are forms of ambient lighting.
Task– Task lighting provides the visibility needed to undertake practical tasks safely, like chopping veg or frying fish. Under-cabinet lights and pendant lights offer excellent solutions to illuminating your work surfaces.
Accent– The primary role of accent lighting is aesthetic. From the fitting design to the light it produces, accent lighting should emphasise the elegant look of your kitchen.
What Are The Most Important Things To Consider?
Firstly, you'll need to ensure all the working areas of your kitchen are well lit. These will include your sink, hob and the majority of your work surfaces. Other areas to consider are pantry cupboards, dining tables and other surfaces that might double up as workstations.
You'll also want to bear in mind how much natural light your kitchen receives. Natural light will bring a fresh and airy feel to your space. Thus, where possible it's worth introducing larger windows, patio doors or skylights. Alternatively, you may need to compensate with brighter ambient lighting.
When choosing your lighting, you'll find that bulbs range in colour from warm white to cool white. The different temperatures/colours have different practical and visual effects. Cool white is brighter, making it useful for task lighting. It can also bring a crisper modern edge to your design, whereas warm white light creates a soft, cosy feel. A warm white around 3000k makes an excellent neutral choice for ambient lighting. If you prefer a cool white, look for a higher Kelvin, e.g 4000k.
Other technical details worth considering include the position of your light switches and the number of circuits needed. Your kitchen designer or electrician should be able to help with this. Once you've addressed these practical considerations, you can have fun exploring all the stylish and unique light fittings at your disposal.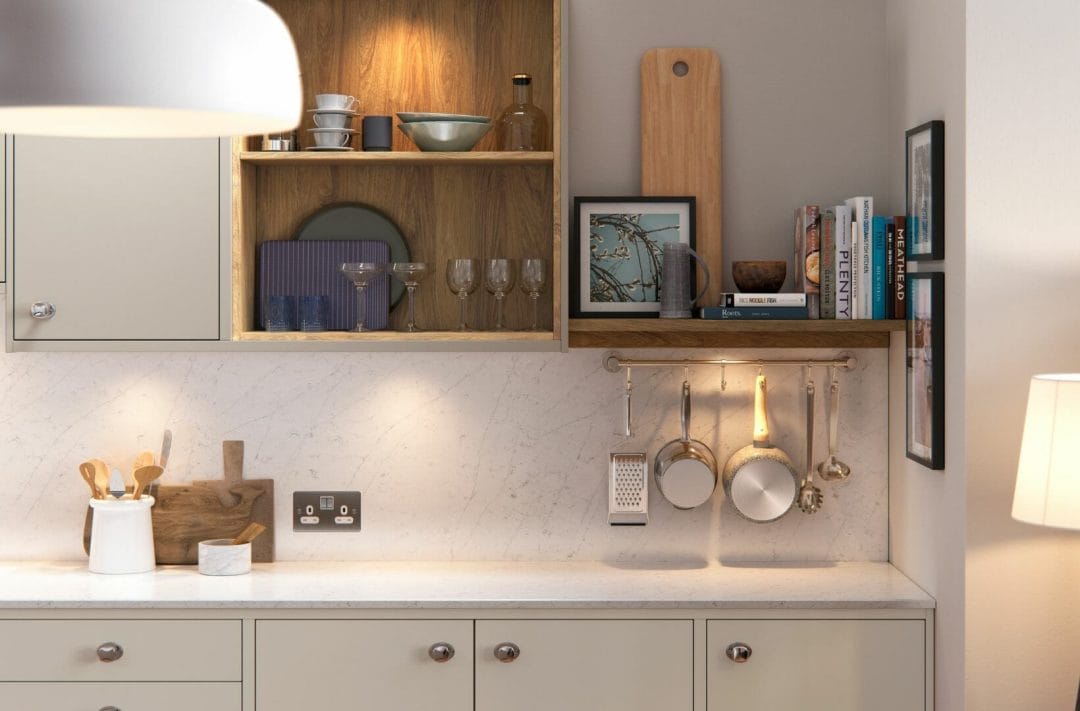 Our Top Kitchen Lighting Ideas & Examples
Here are a few of our favourite lighting design ideas to illuminate your kitchen and create a practical and alluring space…
Lay The Foundations With Great Natural Light
We sometimes overlook natural light when planning kitchen lighting. However, it can transform the atmosphere and appearance of your space. Bringing more natural light into your kitchen can make the room feel fresh and look bigger. Skylights are great for introducing lots of bright natural light. Replacing your windows with a larger frame or patio doors can also bring more light into your space.
Consider Different Types Of Ceiling Lighting
Sleek recessed downlights are one of the most popular types of ceiling lighting. Their seamless design allows you to illuminate your room without interrupting the look of your kitchen. Alternatively, if you're interested in making more of a statement, a cleverly illuminated bulkhead can add a sophisticated flourish to a modern interior.
Combine Practicality & Personality With Pendant Lights
Pairing clean downlights with quirky pendant lights is a great way to add a touch of personality to a practical solution. Pendant lights are perfect for highlighting your favourite features like an island or dining area. When combined with dimmable downlights, they allow you to create a stylish and cosy ambience while bringing character to your kitchen.
Use Lighting To Emphasise Your Cabinetry
Illuminating the front of your cabinets can beautifully accentuate a rich colour or bold surface finish. There are several ways to do this. You can position your downlights to catch the front of your cabinets. Alternatively, you can build your cabinetry into a recess featuring integrated lighting. Or, as demonstrated in the kitchen below, you can graduate your cabinetry to create a tiered effect, introducing lighting beneath the ledge.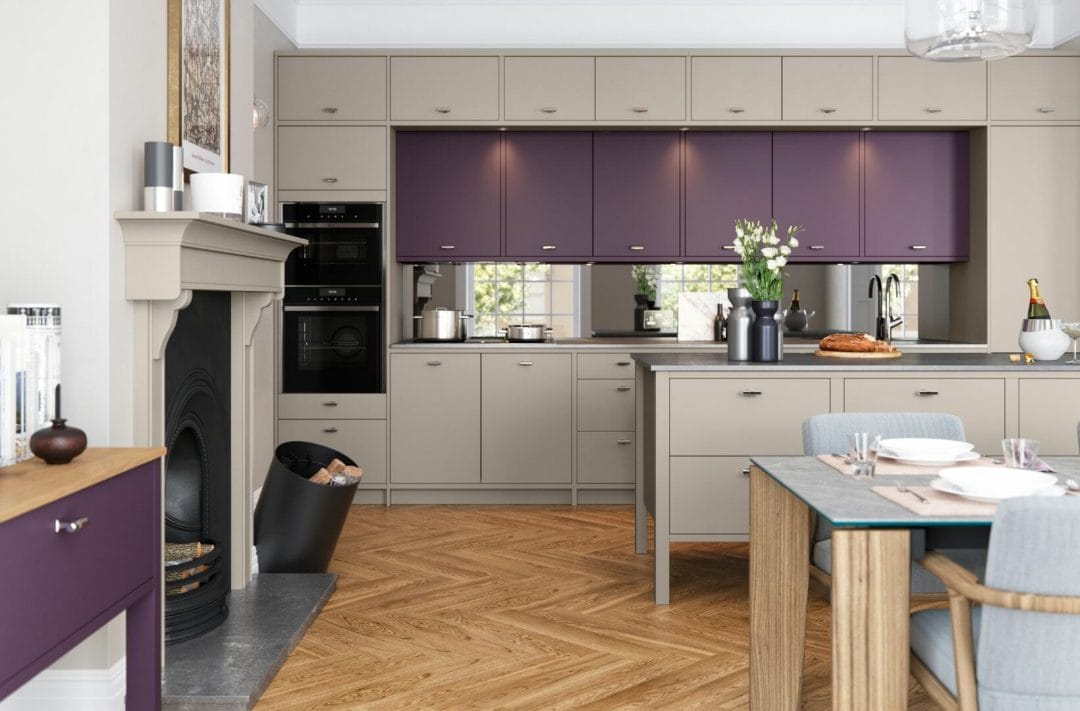 Create A Sophisticated Finish With Cabinet Lighting
From under-cabinet lights to plinth lights, there are so many ways to incorporate lighting into your kitchen furniture. While under-cabinet lights make great task lighting, they can also add a lovely warm glow to your interior. Introducing strip lighting just below your worktops, along the kick space or above your units can also bring a luxurious quality to your design.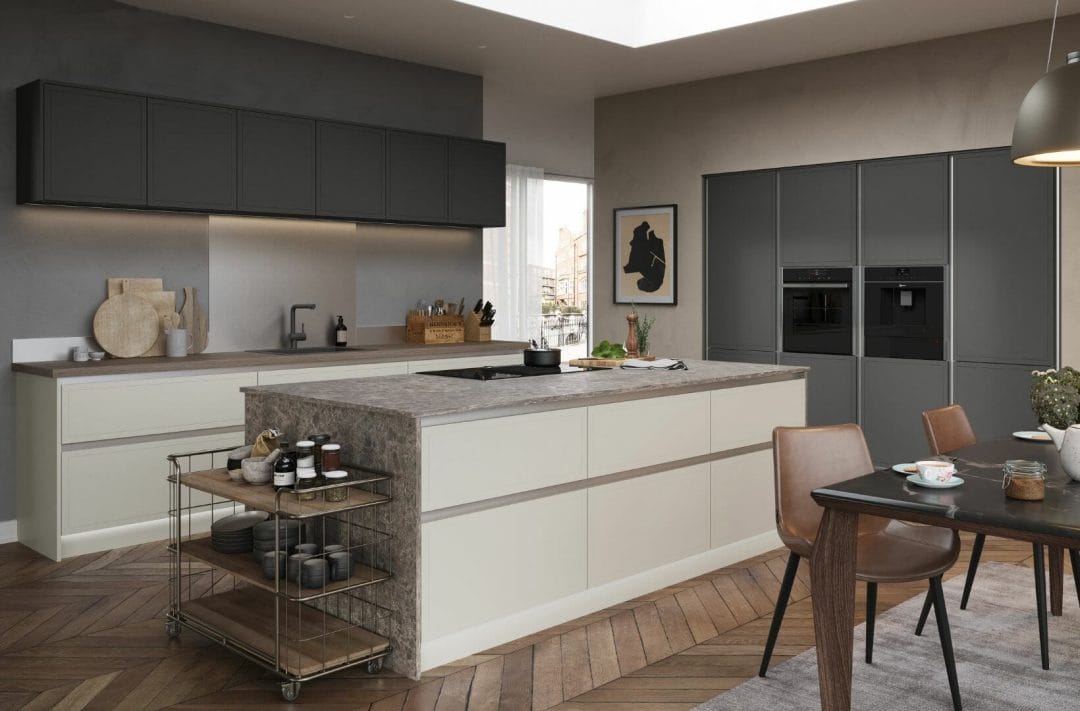 Envelop Your Favourite Glassware In A Warm & Inviting Glow
Whether you opt for shelves, alcoves or glass-fronted cupboards, keeping some items on view is a lovely way to add personality to your kitchen. Lighting offers a fantastic opportunity to accentuate this feature, shrouding your displays in a beautiful warm glow.
Enhance The Practicality Of Your Pantry
Take your pantry cupboard to the next level with stylish and practical integrated lighting. Not only will lighting make it easier to find what you need, but it will also bring a touch of luxury to your space.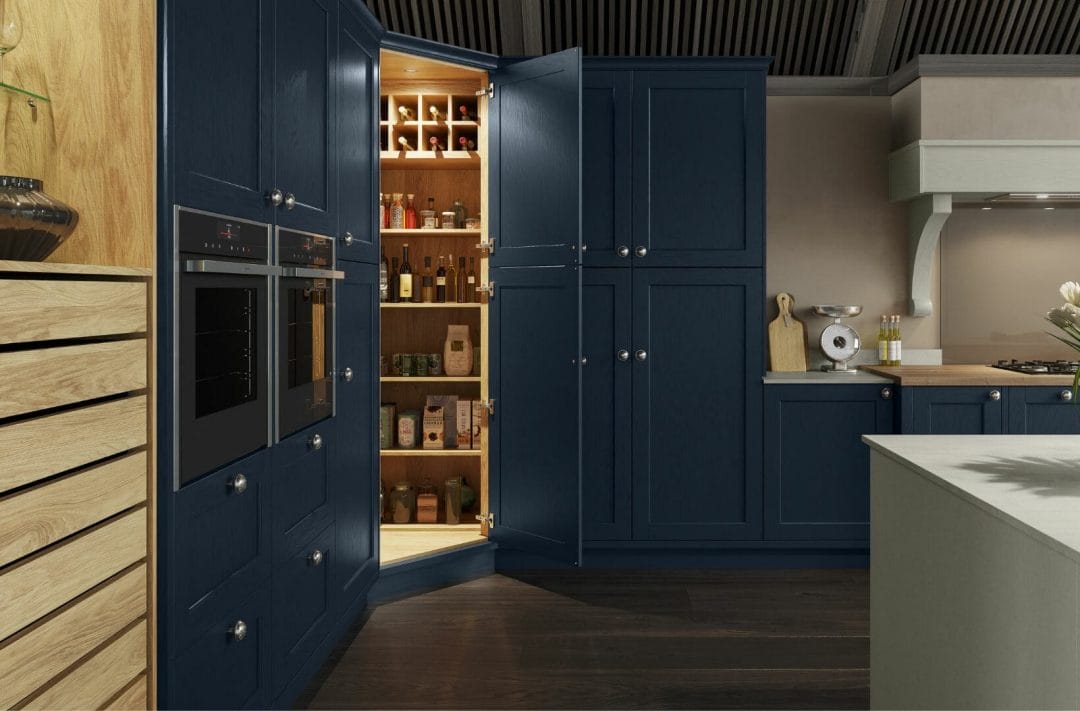 Dedicating some thought to your kitchen lighting will help you get the most out of your new space. Lighting is, of course, essential to ensure your kitchen is safe and easy to use. However, it can also transform your space into a stylish and cosy setting, perfect for hosting or relaxing at the end of a long day. For more advice on planning your kitchen lighting, please don't hesitate to get in touch. You can contact our friendly team by calling 01297 692250 or emailing [email protected].