If you've still got a few last-minute Christmas gifts to buy, why not consider supporting the local community and shopping small this year? At PB Home Solutions, we've lived and worked in East Devon almost all our lives. We feel proud to have built a great relationship with our local clients and fellow independents. Our familiar presence on Seaton high street means a lot to us. However, with the rising cost of living, many local independents are inevitably going to feel the pinch. Shopping small is a great way to support the friends and neighbours behind our local businesses, helping keep our high streets vibrant and bustling. Below are some of our favourite local spots for buying last-minute gifts, stocking up on treats, and getting in the festive spirit!
For Last Minute Gifts
There are some wonderful independent gift and homeware stores to discover right on our doorstep. Heading down to your local town centre to soak up the festive atmosphere, enjoy a cup of coffee, and browse makes a lovely way to while away a wintery afternoon.
Axminster
Acorn Gift Shop
Victoria Place, Axminster, EX13 5NQ
Boasting a lovely selection of gifts ranging from cushions to candles, the family-run Acorn Gift Shop is well worth exploring.
The Courthouse Makers
The Old Courthouse, Church Street, Axminster, EX13 5AQ
Championing work from over 60 local independent makers and craftspeople, you're sure to find a beautiful and unusual gift from The Courthouse Makers.
Honiton
Apothespa
72 High Street, Honiton, EX14 1PD
Know someone that deserves a little rest a relaxation? Apothespa's range of organic Devonshire-made cosmetics could be the perfect gift. Alternatively, a voucher for a soothing beauty treatment makes an excellent and thoughtful present.
The Little Shop Of Seasons
1-3 Dolphin Court, High Street, Honiton EX14 1HT
A seasonally-themed homeware shop, The Little Shop Of Seasons is the ideal place to embrace the Christmas spirit while shopping for gifts.
4 You From Me
56 High Street, Honiton, EX14 1PQ
Combining a lovely selection of stylish gifts and homewares with a fantastic, cosy café, you can easily while away an hour or two enjoying the welcoming ambience and delicious homemade cakes at 4 You From Me.
Lyme Regis
Coombe Street Gallery
33 Coombe Street, Lyme Regis, DT7 3PP
Specialising in local artwork, jewellery, and seaside-themed homewares, Coombe Street Gallery is a real treasure trove of beautiful gifts.
Fuego Gift Shop
5A Coombe Street, Lyme Regis, DT7 3PY
Set in a fabulous bright red building, you can't miss Fuego Gift Shop. Selling a fantastic range of clothing, accessories, and homewares, it's the perfect place to pick up those last-minute gifts.
The Sanctuary Bookshop
65 Broad Street, Lyme Regis, DT7 3QF
If you have any bookworms on your Christmas gift list, The Sanctuary Bookshop in Lyme Regis is the place to go. This cosy, traditional store brimming with laden shelves is everything a bookshop should be.
Ottery Saint Mary
Devon Eco Boutique
19 Broad Street, Ottery Saint Mary, EX11 1BY
Devon Eco Boutique offers a range of environmentally conscious gift options for babies and grown-ups. It's a truly delightful shop to explore.
Kirsten's Curiosities
24 Mill Street, Ottery St. Mary, EX11 1AD
Kirsten's Curiosities is an antique shop with a difference. You'll find a wonderful selection of eclectic items and quirky gifts.
Nelly & Nula
21a Broad Street, Ottery Saint Mary, EX11 1BY
For pets and their people, Nelly & Nula is an animal lover's paradise. As well as gifts for pet owners, you'll also find a fantastic choice of stocking fillers for your furry friends.
Seaton
Coastal Craft Collective
10 Marine Place, Seaton, Devon, EX12 2QL
Celebrating local craftspeople and artists, the Coastal Craft Collective shop in our hometown of Seaton is the perfect place to find great value handmade gifts.
Brogan Buzec Lifestyle
12a Fore Street, Seaton, EX12 2LA
For chic homewares, stylish clothing, and luxury beauty, Brogan Buzec Lifestyle is the place to go.
So Sophie
Unit 1, The Grove, The Underfleet, Seaton, EX12 2FU
Sophie has curated a lovely collection of furniture, kitchenware, and accessories, all boasting a healthy sprinkling of shabby chic.
Sidmouth
Kingfisher Cards & Gifts
50 Sidford High Street, Sidmouth, EX10 8EJ
The award-winning Kingfisher Cards & Gifts offers gifts for all ages with a price range to suit all pockets.
Libra Court
Fore Street, Sidmouth, EX10 8AJ
Tucked just off Sidmouth high street, the pretty Libra courtyard shopping area showcases a range of independent local businesses, including six fantastic galleries selling stunning, unique products and designs.
Santi Market
14 Fore Street, Sidmouth, EX10 8AH
Including a fabulous selection of chic, on-trend home décor, furniture, and accessories, Santi Market specialises in environmentally friendly and ethical products.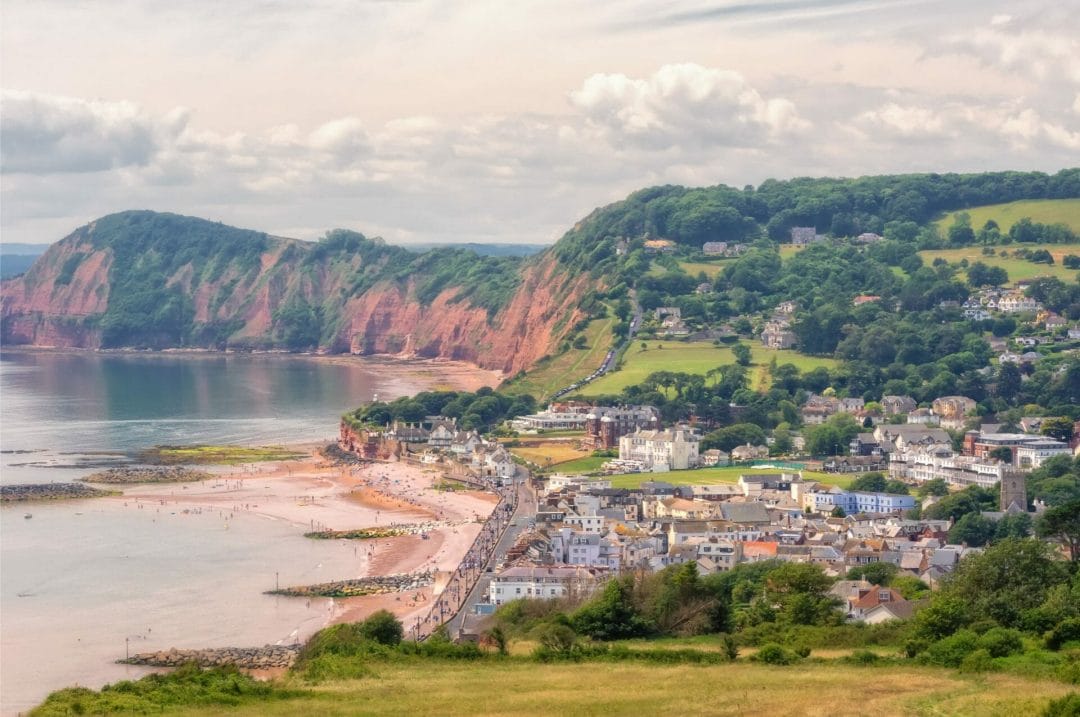 For Feeling Festive
Why not get yourself into the festive mood by visiting one of our wonderful local Christmas markets…
Connaught@Christmas
Peak Hill Rd, Sidmouth, EX10 8RU
As well as exploring the range of delicious treats and fantastic gifts on offer at the Christmas Food & Craft Village, your tickets also include access to the spectacular Christmas light trail through the clifftop gardens. A visit to Connaught@Christmas is the perfect way to start your festive celebrations.
Exeter Christmas Market
1 The Cloisters, Exeter, EX1 1HS
Set in the grounds of the beautiful Exeter cathedral, Exeter Christmas Market is the ideal place to get in the festive spirit. As Devon's largest Christmas Market, you'll have the chance to enjoy over a hundred festive chalets, a wide selection of local gifts and produce, seasonal entertainment, and free entry to Exeter cathedral. The market is open every day from now until the 18th of December. Don't miss out on the fun and festivities!
For Stocking Up Your Pantry
Christmas is a great excuse to forget the diet for a few weeks and make the most of our bountiful local farm shops. Here are some of our favourite spots to stock up on festive treats and delicious fresh produce.
Axminster
Lyme Bay Winery
Shute Rd, Axminster, EX13 7PW
Stocking a range of their own wines, ciders, and fruit liqueurs, the award-winning Lyme Bay Winery is the ideal place to discover your new favourite festive tipple.
Millers Farm Shop
Gammons Hill, Axminster EX13 7RA
Millers Farm Shop is an Aladdin's cave of fresh, local, seasonal produce. Exploring this 40-year-old institution's range of fresh goods, preserves, and pastries is always a delight.
Honiton
Combe Farm Shop
Hayne Farm, Gittisham, Honiton, EX14 3PD
Selling the finest produce from the Combe Estate, this award-winning butchers and farm shop is the ideal place to stock up your larder.
Heron Farm
Weston, Honiton, EX14 3NZ
This award-winning vineyard and kitchen garden restaurant features a lovely boutique farm shop where you'll find a gorgeous range of gifts and delicious local produce.
Ottery Saint Mary
Coldharbour Farm Shop
East Hill, Ottery Saint Mary, EX11 1QL
Offering award-winning farm fresh produce, Coldharbour Farm Shop stocks a fabulous selection of freshly prepared meals, pastries, and home-cured charcuterie, as well as fresh veg and meat.
Seaton
Colyford Butchers
50 Fore Street, Seaton, EX12 2AD
Colyford Butchers are a traditional butchers shop that prides itself on supporting local farmers and producers as much as possible. They only serve the finest, locally sourced produce.
Little Gems Fruit And Vegetables
1 Cross Street, Seaton, EX12 2LH
Situated just around the corner from our studio, Little Gems sell a lovely selection of the freshest fruit and veg from local producers. They also have a fantastic choice of preserves and even some festive wreaths.
Sidmouth
East Hill Pride
Four Elms Hill, Sidmouth, EX10 0FE
East Hill Pride farm shop opened in the mid-1800s and is still owned and run by the same local family. They stock a wonderful range of homemade pastries, high-welfare meat, and traditional farm shop produce.
Whether you're looking for the best local produce to accompany your Christmas dinner or unique gifts for family and friends, here in Seaton, we're lucky to have a wealth of wonderful independent shops on our doorstep. We hope you enjoy browsing some of our fellow independent stores and getting in the festive spirit. From all the team at PB Home Solutions, have a very Merry Christmas!