At PB Home Solutions we design and install wonderful kitchens that are both practical and beautiful to look at. Our expert team know that one of the most important factors to consider when crafting your perfect space is storage. Making sure you have enough storage allows your kitchen to operate smoothly and efficiently, keeping your worksurfaces clear and making your kitchen feel warm and inviting. You might be surprised to learn about the wonderful variety of storage options available and so we have put together this guide to take you through some possible ideas for you to consider in your new design.
Storage
This might seem like an obvious suggestion but introducing plenty of drawers to your kitchen design is in fact an excellent way to improve functionality, particularly in a compact space. More traditional kitchen designs tend to focus on cupboards; however, drawers can be much more convenient to use. They allow easy access to the very back of your units and, with our extra wide and extra deep drawers, they will transform the effectiveness of your design.
Organiser compartments make even the smallest ingredients or utensils easy to find. We even offer drawers with integrated disposal compartments so you can keep your kitchen looking completely flawless.
Pantry Cupboards
Over the past few years, we have seen a big revival of pantries and pantry cupboards. While they were previously designed as an external room adjoining the kitchen, new concepts integrate spacious pantry and larder cupboards into your kitchen design for optimum efficiency and style. The dramatic look of the tall cabinetry makes a wonderful and sophisticated impact to your interior, enhancing the beauty as well as the practicality of your space.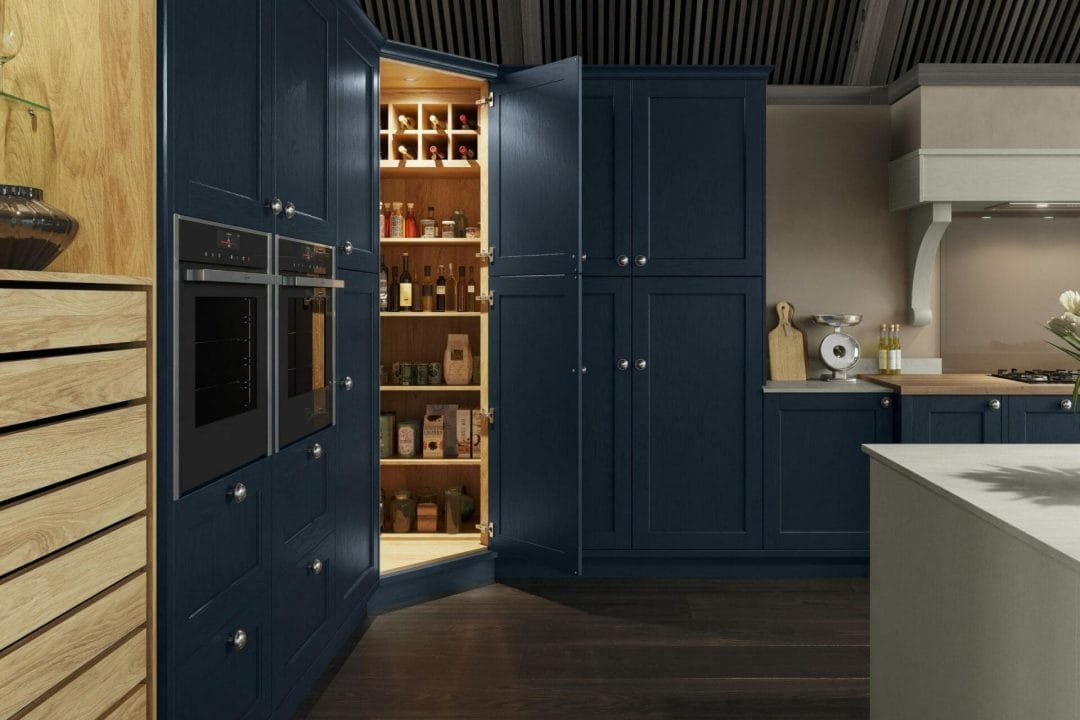 At PB Home Solutions we are able to create the perfect pantry cupboard to suit your home and lifestyle. A corner pantry could be the perfect solution to an awkward angle, or if you don't have room for a full double door design, we also offer single width options complete with wine racks, drawers or shelves bespoke to your requirements.
For a more modern compact interior a pull-out larder could be just the answer. Our pull-out larders are available in a range of widths to complement your unique space and boast an incredible weight capacity which guarantees smooth ease of use. The nature of the drawer system means you will have remarkable access to all your ingredients or cookware.
Kitchen Islands
A kitchen island makes a striking statement to your kitchen design. While a kitchen island embodies luxury and sophistication it also offers remarkable practical benefits. Not only do you gain ample internal storage, the additional worktop space gives you the freedom to include more full height units in your design without worrying that your worksurfaces will be compromised. As the focal point of the room, an island is a perfect place to introduce display storage.
As you can see in this gorgeous kitchen, a bespoke shelf makes an ideal location for displaying recipe books and ornaments to beautiful effect. Positioning a chef's table on the end of an island makes an exceptional addition to a classic country style kitchen and offers a wonderful spot to display cookware as well as including a handy drawer for utensils. A kitchen island offers remarkable potential to transform your space with its exquisite looks and functionality.
Display Storage
Last but certainly not least, display storage is a very important component to consider in your new kitchen design. At PB Home Solutions we appreciate that it can seem daunting when we recommend display storage to our clients, the prospect of having the contents of your kitchen on show can fill a perfectionist with dread. However, introducing display storage into your design will give your kitchen bags of character and makes the space feel truly unique to you.
Simple shelves, glass fronted cabinets or integrated display shelves can be included in modern and traditional kitchen designs and while they primarily enhance the welcoming ambience of your home they are also a handy place to store crockery, recipe books or even ingredients.
Striking a balance between different types of storage is the best way to maximise your kitchen space for ultimate functionality and effortlessly stylish looks. If you have been inspired by this article and would like to find out more about how PB Home Solutions can help transform your space, please don't hesitate to get in touch by calling 01297 692250 or book your design appointment by clicking here.