The kitchen is an incredibly vibrant space, bursting with delicious cooking aromas and the hubbub of friends and family gatherings, capture this energy and enhance your kitchen design by creating the perfect colour scheme. Colour allows you to bring even more personality to your interior and will have a striking impact on the look and feel of your space. Creating the right atmosphere to suit your style is essential and there can be a lot more to it than just choosing one cabinet colour. To help give you some inspiration we've put together a selection of our favourite kitchen colour tips.
Bold Cabinet Colour
Opting for a dark cabinet colour can feel daunting, however, in a bright and open kitchen a bold tone will make a fantastic design statement giving a sophisticated and dramatic atmosphere to your interior. Many of us worry that dark cabinetry will make a kitchen feel claustrophobic, this certainly doesn't have to be the case. Allowing plenty of natural light into the room and balancing the layout of your design will ensure your kitchen feels spacious and warm.
A dark navy blue shade is a wonderfully timeless option, alternatively, consider a nurturing forest green or elegant deep grey. Accent lighting beneath cupboards and integrated into shelving will give a soft glow making a darker kitchen colour scheme feel gorgeously cosy and atmospheric.
Beautiful Painted Walls
Another excellent starting point when creating your perfect colour scheme is to consider adding a vibrant shade to your walls. While often our first thoughts go to the kitchen furniture, walls offer equally fantastic potential. Painting your walls gives you an almost endless array of colours to choose from so you can find exactly the right shade to complement your space. Soft tints with earthy undertones will bring subtle warmth and personality to your interior, while a richer hue will add character and energy.
In the contemporary kitchen below, subtle shades have been layered to perfectly balance the space making for a sophisticated design feature. For a striking statement pair bold contrasting colours to bring movement and vitality to your design.
A Striking Two-Tone Scheme
Beautiful dark hues look fantastically stylish in both modern and traditional kitchens, however, if you are concerned this approach might be too much for your space consider opting for a two-tone colour scheme. A daring shade can be cleverly positioned to emphasise key features of your design such as a kitchen island or freestanding furniture. Using a bold colour sparingly will add interest to your kitchen without becoming overwhelming.
Elevate your design even further by introducing several similar colours against one or two accent shades for a spectacularly sophisticated look.
Vibrant Accent Features
Introducing a bright pop of colour to your kitchen can add a brilliantly playful yet sophisticated feel to your space and is an ideal solution to establishing a vibrant edge in a modern design. If you love a sleek contemporary style and you want to really make it your own, consider opting for a bold coloured splashback or feature wall. The burgundy accent colour below is subtly reflected in the cabinet trim to create a stylish cohesive interior.
Sophisticated & Subtle Tiling
Delicately patterned tiles are a wonderful way to introduce colour to your space more subtly. Mosaic tiles will create a detailed and characterful design feature that can be used to enhance your overall scheme or can provide a contrasting accent colour. Pick out this accent shade in your kitchen accessories for a beautiful finishing touch.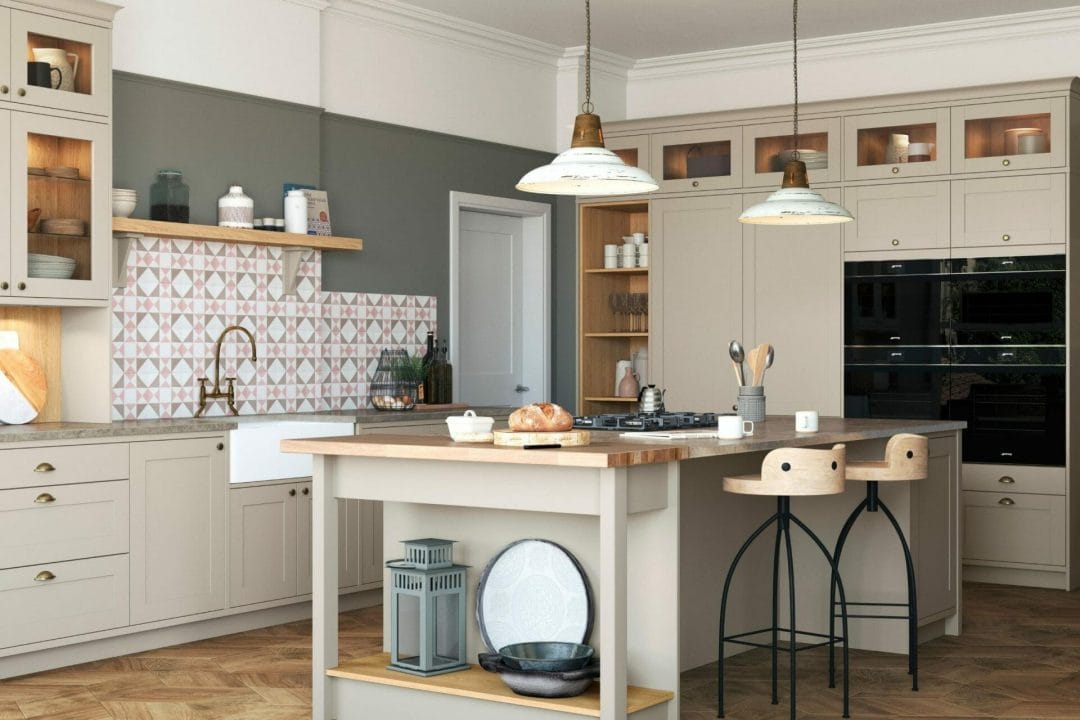 Warming Wood Tones
If vibrant colours aren't your thing you can still introduce warmth and character to your kitchen design by including luxurious wood finishes. The natural texture creates a welcoming and homely vibe, ideal for softening a modern monochrome interior. Explore different options from deep rich walnut to warming oak and elegant beech to achieve the perfect tone.
When it comes to introducing colour to your kitchen the possibilities are incredibly diverse and versatile allowing you to create as bold or as understated a look as you desire. Adding colour to your kitchen truly captures the essence of the space making a wonderful focal point to your home. If you would like to find out more about how PB Home Solutions can help transform your kitchen, please call our showroom on 01297 692250 or book a design appointment by clicking here.