It's not every day you choose to redesign your Devon kitchen, and as such an important part of your home, it's essential that when you do rethink your space, you get all the details just right to ensure your new interior stands the test of time for many years to come. At PB Home Solutions, we've been designing and installing stunning kitchens across Devon for over 15 years, and while we've seen a variety of trends come and go, there are many fantastic contemporary design ideas that can give your new kitchen an edge without compromising the longevity of your space. To give you some inspiration on how to create a timeless practical and stylish Devon kitchen, we've put together a few of our top design ideas in this helpful blog.
A Sophisticated Colour Palette For Your Lyme Regis Kitchen
To give your Lyme Regis kitchen a fresh and on-trend look that's sure to last, consider pairing a stylish yet understated colour scheme with clean and contemporary handleless furniture. Dark navy-blue kitchens have been incredibly popular for a number of years, and they certainly won't be going out of fashion any time soon. However, a dark blue hue is often utilised to bring a modern and stylish edge to a classic shaker kitchen. For a twist on this trend, combining a warm dark blue with a soft cashmere tone strikes the perfect balance between timeless elegance and contemporary flair. Handleless kitchens don't have to look cold and dramatic, an elegant colour palette is the perfect way to achieve a sleek Lyme Regis kitchen that looks stunning for many years.
An Exmouth Kitchen That Captures Your Personality
All good kitchen designers know that when it comes to creating an interior that truly stands the test of time, the most effective approach is to choose from the heart. Designing your Exmouth kitchen to appeal to your personal taste and your individual style rather than spending too much time worrying about the latest trends and fashions is the best way to achieve an interior that you'll love now and many years in the future. To give your Exmouth kitchen a splash of personality, don't be afraid to think outside the box, for example, why not incorporate a bold accent colour that fills your space with joy?
Neutral & Elegant Axminster Kitchen
If bold colours just don't factor into your plan for your gorgeous new Axminster kitchen, then a simple neutral scheme will always look effective. Warm beiges, creams and cashmeres are ideal for creating an inviting and cosy atmosphere while cooler greys will bring a beautiful touch of elegance and luxury to your Axminster home. Shaker kitchens are a wonderful choice for those who prefer a more classic look. With a 200-year design heritage, it's fair to say the shaker kitchen has and will continue to stand the test of time.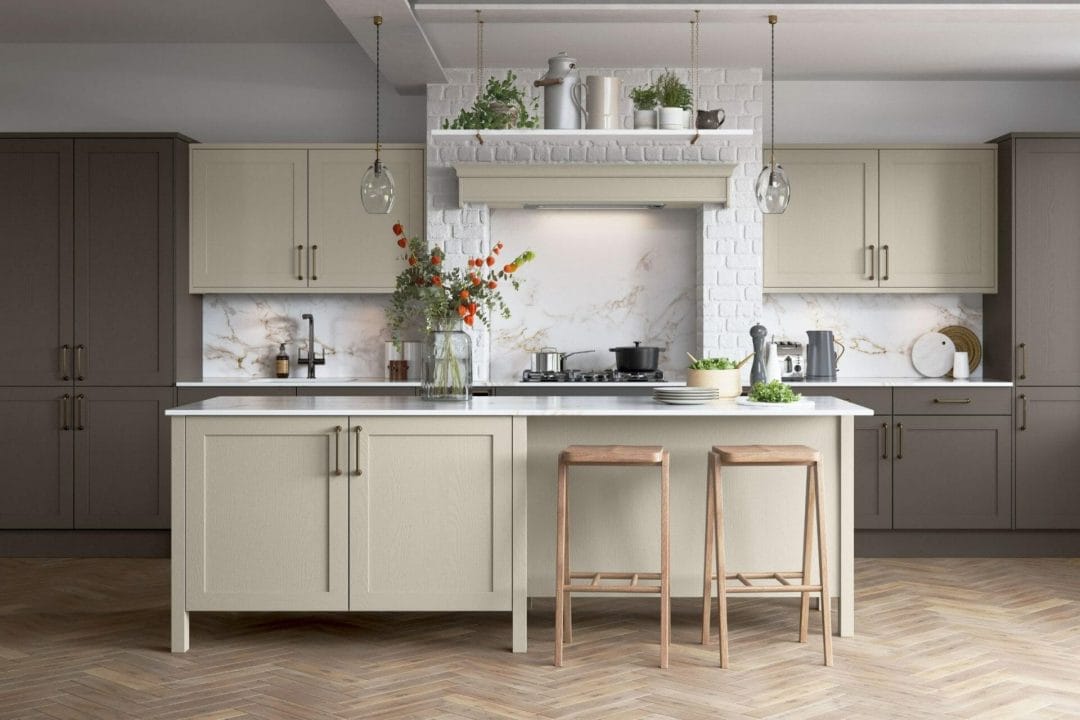 A Superbly Practical Honiton Kitchen
Creating a timeless Devon kitchen isn't just about looks, in order for your new space to truly stand the test of time it will also need to live up to your expectations in terms of functionality. As well as choosing fantastic appliances and achieving a suitable layout, you will want to make sure your Honiton kitchen has plenty of convenient and accessible storage. Drawers can allow you to reach the back of your units more easily and can be integrated into a superb and spacious pantry/larder cupboard. For more tips on maximising your kitchen storage, you can read our other in-depth blog by clicking here.
Warm & Inviting Ottery St Mary Kitchen
The final finishing touch to complete your new Ottery St Mary kitchen is lighting. Kitchen lighting can sometimes be left as a bit of an afterthought, but to ensure every detail of your new interior is the best it can be, it's important to consider lighting alongside the other elements of your space at the beginning of your project. Adding lighting to your display shelving and under cabinets will provide clear and practical visibility whilst also giving your beautiful Ottery kitchen a warm and inviting glow. Pendant lights are ideal for emphasising features such as a kitchen island or dining table. Dedicating attention to the finer details of your new Devon kitchen will help you to create a long-lasting and high-quality design.
From finding the perfect colour scheme to making sure you've perfected the practical features of your space, there's a lot to consider when it comes to achieving a timeless Devon kitchen. If you'd like more advice and support on bringing your new interior to life then we'd be delighted to discuss your options at our nearby Devon kitchen design studio, or you can get in touch with our friendly expert team now by calling 01297 692250 or emailing [email protected].