The layout of your kitchen is probably the most important factor when it comes to creating a successful, long-lasting kitchen design. Getting your kitchen layout right is the key to achieving a practical and inviting space that provides the storage, worktops, appliances and features you need to enjoy your room, whether you love cooking with the kids or entertaining friends and family. However, with so many different aspects to consider, from the dimensions of your space to your individual needs, finding your perfect layout can be challenging.
To help you get started, we've put together this handy guide which includes, factors to consider, design tips and helpful starting points. While it's great to assess your requirements and get an idea of the kind of kitchen you'd like to create, we would always recommend gaining the expertise and professional advice of your friendly local kitchen design specialists. If you'd like to speak to our helpful team, please click here. Once you've found your ideal kitchen layout, you are free to embrace your creativity; planning colour schemes and selecting stylish worktops and accessories to bring your vision to life.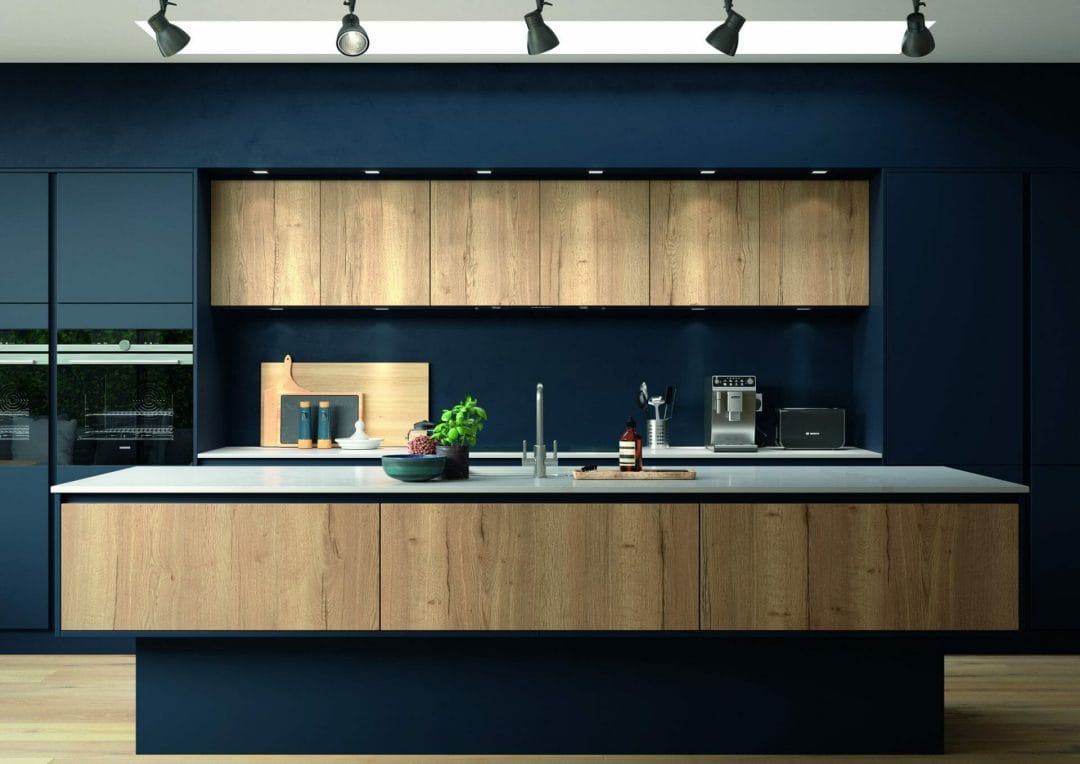 Thinking About Your Kitchen Layout Goals
As with any project, narrowing the parameters and outlining a series of objectives is a good way to clarify your expectations and ensure your new kitchen delivers everything you'd hoped. There are three factors you will need to weigh up in order to define a clear and achievable brief.
Your Lifestyle- How you enjoy using your kitchen is unique to you and should be carefully considered when planning your layout. If you often cook as a family, you may want to include multiple prep areas, or perhaps the kids would benefit from somewhere to sit and do homework or play on the iPad? If you love hosting and entertaining, you may find a kitchen island benefits your design. Your kitchen is the hub of your home, and there's no limit to how much you can personalise your design.
Your Space- With some ideas beginning to form around how you might like to use your kitchen, you will need to be realistic about what can be achieved with your space. If you love cooking, a steam oven with a sous vide cooker and warming drawer might be right up your street. However, in a compact kitchen, that might not be a wise use of precious storage space. Likewise, a kitchen island might be ideal for entertaining, but it's no good if it inhibits your workflow and stops you from moving around the room. Your design will need to maximise your individual space and complement your lifestyle.
Your Budget– Another practical consideration you will need to be realistic about is your budget. Of course, there's no point in planning to include a state-of-the-art downdraft hob and luxury wine cooler if you're working to a tight budget. Often, it's a case of weighing up where to invest and where to save. For example, knocking a wall through is a popular way to gain more space and the impact it will have on your design could make it worth sacrificing expensive top of the range appliances and luxury worktops. Bear in mind that dramatically moving or rearranging services for appliances like sinks, dishwashers, hobs and cooker hoods can also add to the cost of your kitchen. The best way to understand what's achievable with your budget is to speak to your local kitchen design experts.
Planning Your Kitchen Layout – Tips To Bear In Mind
Regardless of your individual requirements, there are several principles designers use when planning a kitchen layout that can help you achieve a practical and stylish space.
What Is The Kitchen Work Triangle?
The work triangle refers to the arrangement of three key elements of your space, your sink, hob and refrigerator. A concept devised in the 1920s, achieving a suitable work triangle is widely considered the best way to create an ergonomic and efficient layout. In order to establish a successful work triangle, each key element must be between 1.2 and 2.7m apart from the other. The triangle should not be interrupted by any traffic coming and going through the kitchen or by any other primary kitchen features like ovens, microwaves or pantries. This arrangement should provide enough space between appliances to move around freely while minimising distance travelled and preventing any interruption to your workflow.
Kitchen Zones
As a concept conceived over 100 years ago, there are plenty of designers that feel the work triangle is a little outdated. Ultimately, what's most important is creating a layout that works for you. While not totally dissimilar from the notion of the work triangle, organising your kitchen into zones should ensure you have everything within reach for the task at hand. For example, integrating storage for cooking oils, seasoning, utensils and pots and pans next to your hob to create a space for cooking; storing chopping boards, mixing bowls, knives, and a bin around a workstation not too far from your sink to create a prep area. Place your kettle and toaster near your food cupboards for easy access to snacks and hot drinks. You can then arrange these zones to minimise traffic in the busiest areas.
Bringing Balance & Openness To Your Kitchen
These days kitchens are often much more than just a place to cook. And while creating a practical layout that enhances the efficiency of your space is important, it's not the only factor to consider. Whichever approach you take to planning your kitchen layout, you will want to ensure your interior is warm, inviting, and elegant. It can be tempting to include as many units as possible to provide plenty of storage. However, too many overhead cabinets can leave your room feeling cramped and claustrophobic; open shelving makes a stylish substitute. Creating a sense of symmetry by positioning your hob and sink centrally and balancing tall units at either side can also enhance the appearance of your space. As the heart of your home, your kitchen should be a pleasure to relax and spend time in, and that means dedicating thought to more than just the practical details of your design.
Where To Start When Planning Your Kitchen Layout?
When faced with a completely blank canvas, knowing where to start can be difficult, not to mention incredibly daunting. We've put together a few suggestions to help you begin.
Where Should You Position Your Kitchen Sink?
Traditionally the kitchen sink is located below a window to provide clear visibility and a pleasant view. But with modern dishwashers doing most of the work for us, you might want to break from tradition. As an eye-catching focal point, you might consider positioning your sink on an island or next to a stylish architectural feature such as a pass-through. Alternatively, to keep dirty dishes out of sight, you may prefer to tuck your sink into a discreet corner. Next, you can decide whether to place your dishwasher and potentially a built-in bin nearby.
Choosing Where To Position Your Hob & Cooker Hood
As one of the main features of your kitchen, deciding where to position your hob is a great place to start. The hob usually takes centre stage either on an island or in the middle of a run of base cabinets. However, your choice of extraction may have a bearing on your final decision. A proper extraction cooker hood will need to be vented outside. This means your hob and hood will need to be placed against an outside facing wall, or, alternatively, you will need to devise a route to run your ducting out through the room. There is a limit to how far you can run ducting, and the additional work involved will need to be accounted for in your budget.
Including Tall Kitchen Units
Tall units make a useful addition to a kitchen layout. They are a popular option for concealing fridge freezers and housing ovens at eye level. They also offer fantastic storage capabilities when paired with pull out drawers or a pantry style design. You will need to think carefully about how many tall units are appropriate in relation to the size of your space and how to arrange them without overwhelming your room. A long row of tall cupboards can create a streamlined effect, but don't forget you will also need to make sure you have enough worktop space for cooking and preparing food.
Should You Include A Kitchen Island Or Peninsula?
Islands and peninsulas can make a fantastic addition to your kitchen layout, provided you have the space. The additional worksurfaces they provide can help you achieve the perfect work triangle, improving the flow of your kitchen and offering a spot for guests to gather. To begin planning your layout, you may want to sketch out the arrangements that allow you to include your dream island or peninsula. While your kitchen island should complement the proportions of your space, it should be no smaller than 1m x 1m and should allow at least a 915mm walkway between other units. Finding a solution that meets these conditions should quickly narrow down your options. For more information on including a kitchen island in your design, please click here.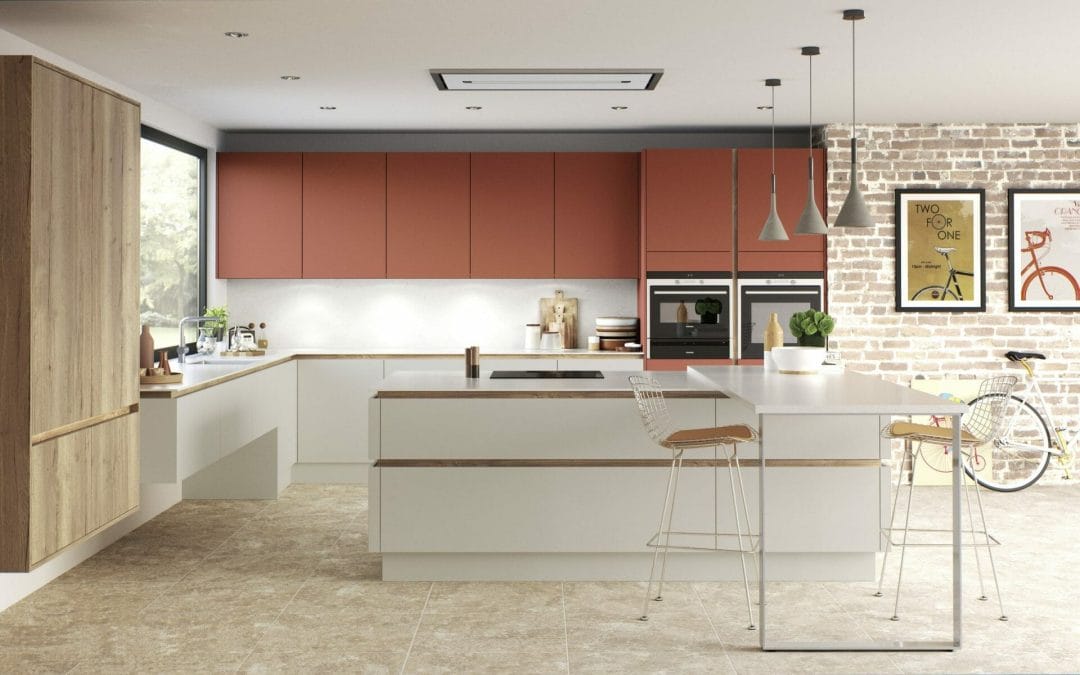 With so many factors to consider, your kitchen layout can be a tricky thing to get right. We hope our guide has helped, however, if you'd like further advice on designing your kitchen layout, please don't hesitate to get in touch with our experienced and knowledgeable team. You can call us on 01297 692250 or email us at [email protected], or if you live nearby, please feel free to pop into our Seaton studio.