It's not every day you embark on the process of transforming your kitchen. And as the focal point of your home, there's a lot of pressure to ensure your new space lives up to expectations. With this in mind, no doubt you'll be keen to get the most out of your exciting upcoming project, and thus you'll probably be wondering exactly what's involved in bringing your vision to life and how to prepare. Here at PB Home Solutions, we've helped hundreds of clients find their perfect bespoke kitchens. And to give you an insight into the process and make your journey a little less daunting, we've assembled this complete kitchen design and installation guide.
The Kitchen Design Process
Discover why taking the time to find your perfect design is so important, and read our top tips on how to prepare.
Should You Design Your Own Kitchen?
From enjoying a coffee with friends to cooking midweek meals, the kitchen is a versatile space. And creating a design that works for you and your family involves much more than simply choosing cabinets, worktops and appliances. From planning ingenious storage solutions that accommodate everything you need, to finding a layout that maximises your space and encourages a great workflow, you will need to think creatively in order to find a design that complements your individual needs.
At PB Home Solutions, our team have over 25 years of experience designing elegant and innovative bespoke kitchens. They pride themselves on helping our customers achieve their perfect interiors. Their expert knowledge of kitchen design, alongside their familiarity with our products, enables them to create original and inspiring interiors that make the most of your space and budget.
While there are plenty of helpful online guides explaining how to plan and design your own kitchen, there's no substitute for many years of professional experience. What's more, ensuring your design and the quality of your kitchen is up to scratch is the best way to guarantee your new interior stands the test of time. As such an important part of your home, we would always recommend getting specialist advice.
Finding Kitchen Inspiration
While we wouldn't advise taking sole responsibility for designing and planning your kitchen, it can be a good idea to do a little preparation before speaking to a professional kitchen designer. As much as your designer will be dedicated to helping you find a design you love, the more information you can give them about what it is you're looking for, the more accurately they will bring your vision to life.
Online magazines and platforms such a Houzz, Pinterest and Instagram can help you find great inspiration. They can also provide a wonderful source of imagery, which you may wish to refer to during your design appointment. However, to ensure the design you have in mind lives up to expectations, we recommend experiencing some kitchens in person. The best opportunity to explore a range of kitchens first-hand is to visit a nearby kitchen showroom. Learning about the different kitchen styles and features available should give you a good starting point for your design appointment. For more information on how to find our own boutique kitchen showroom in East Devon.
Creating A Design Brief
Whether you could use a space that allows you to keep an eye on the kids while cooking or would benefit from a variety of sophisticated hosting must-haves, it's important your kitchen enhances your lifestyle and complements your individual needs. Though your kitchen designer should take the time to understand your requirements, you may find it helpful to outline some of the things you feel are important or some of the specific design features you would like to include. Questions you might want to address include:
Who will use the space?
Do you intend to host guests?
Will children need to use your kitchen?
How often do you cook from scratch?
How much storage do you need?
Are there issues with your current kitchen you could learn from?
What appliances do you need?
What is your budget?
Get more advice on creating a kitchen design brief.
Your First Kitchen Design Appointment
Your initial design appointment is the exciting first step in your kitchen renovation journey. When meeting with your designer for the first time, there should be lots to discuss in terms of your practical requirements, taste, budget and what you hope to achieve from your project. After getting to know you and your requirements, your designer will begin planning your interior, finding the best solutions to your space and exploring different styles before refining and honing your design.
You may find it useful to bring photos and measurements of the room you intend to transform with you to your design appointment. Alternatively, building plans or technical drawings may come in handy. You may also want to share some of the inspiration you've collected with your designer so they can understand the vision you have for your space.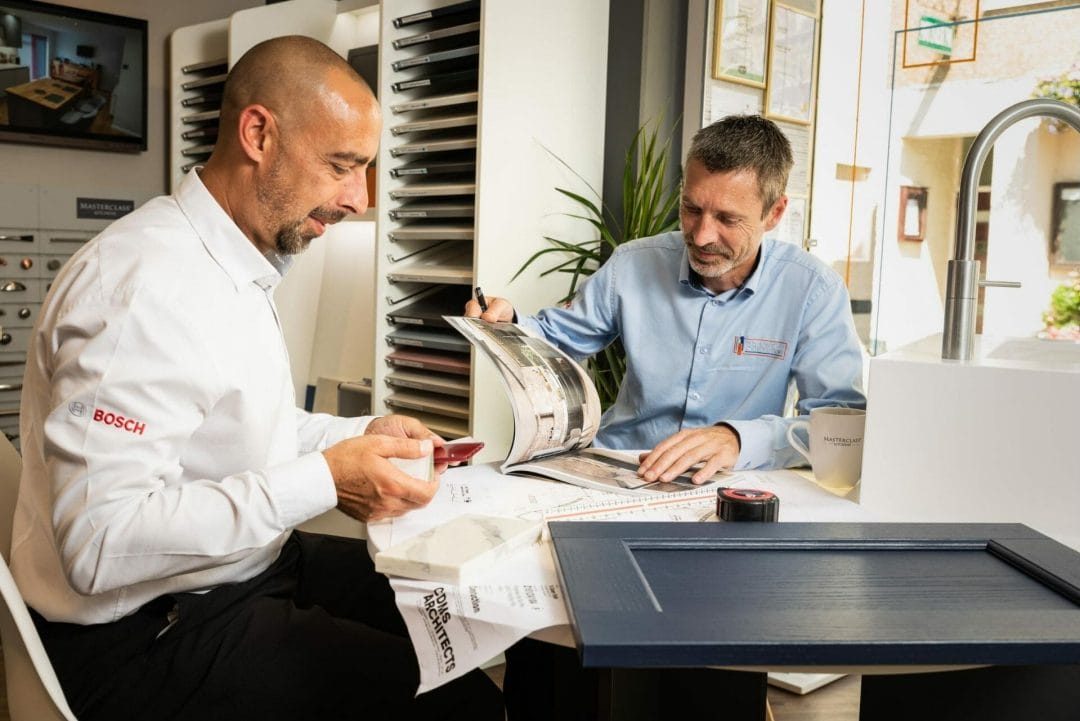 Surveying Your Home
Your kitchen survey is a vital part of the kitchen design and installation process. During your survey, your appointed kitchen specialists will measure your room to ensure your design and subsequent order are accurate. They will also check your existing space and services are compatible with your design. Conducting a survey is essential to minimise any setbacks that could occur later on in the installation process.
Signing Off Your Design
Having perfected the details of your design in line with your brief, you should be almost ready to sign off your plans. While some kitchen specialists may work differently, at PB Home Solutions, we will present you with an intricately detailed and realistic 3D CAD render of your space. While we hope our stunning design gives you the confidence to progress to the next stage of your kitchen journey, viewing your kitchen on screen also offers an opportunity to make any final tweaks and changes before your order is confirmed. Once you are satisfied with your design, your retailer will discuss the payment/deposit process with you in order to progress to the next stage.
The Kitchen Installation Process
Including plumbing, electrics, small building works, decorating, tiling and more, the process behind your kitchen installation is often the most complex and also unfamiliar aspect of your project and can understandably seem quite daunting. To help put your mind at rest, we've put together a detailed guide to the process. Please bear in mind that this can vary depending on your unique project.
What Does A Kitchen Installation Include?
If you opt for a fully managed installation, your retailers will coordinate your project from start to finish, carrying out all the prep work involved in getting your space ready for your kitchen fit. A dry fit installation only includes fitting the kitchen itself; all the services will need to be in place, and your tradespeople will need to return to make the final connections after your kitchen is installed.
Below are the steps involved in readying your space and fitting your kitchen…
Removing Your Existing Kitchen
If you are replacing or remodelling an existing kitchen, any cabinets, appliances and flooring you no longer want will need to be removed and disposed of. This includes wall coverings such as wallpaper. Wallpaper stripping is not always included, even in a fully managed kitchen project. If you choose to keep some appliances, these will need to be stored safely.
Small Building Works
Small building works, for example, replacing windows or adding or removing walls, should be carried out at the beginning of the installation process. If you can live with the mess and prefer to keep your facilities intact for longer, you may even choose to do this before removing your kitchen, providing units don't get in the way of the work.
First Fix Plumbing & Electrics
If you are adjusting your layout or working with a new space, you will need water, gas, and electrical services installed in line with your kitchen plans, ready for connecting to your sink and appliances.
Plastering
Small building works, plumbing and electrics can all cause damage to your walls and ceilings, particularly where channels have been routed for new electrical sockets. Depending on the condition of your walls, they may need either patch plastering, skimming or complete replastering.
Painting
Once your kitchen has been plastered and the plaster has been allowed to dry properly, you may want to start painting your room. Painting can be a messy job. Getting it out of the way before fitting your new kitchen can help protect your worktops and units. However, you may have to do some touching up afterwards. Also, tiling over painted walls is not recommended.
Kitchen Flooring
Hardwearing stone, ceramic, or porcelain floor tiles should be laid before your kitchen is fitted. If you are investing in underfloor heating, it will need to be installed before your flooring is laid. We recommend installing laminate or LVT flooring after your kitchen fit.
Installing Kitchen Units
Once all the preparation works are complete, your brand new kitchen installation will begin! This starts with your kitchen units.
Installing Kitchen Worktops
Laminate and timber worktops can be measured and cut on-site. This means they can be fitted as soon as your kitchen cabinets are installed. However, solid surface worktops such as quartz, granite and corian will need to be measured and cut by the manufacturers. This involves a process called templating and fitting. The time between measuring your kitchen and receiving your worktops can take over a week.
Connecting Your Sink & Appliances
Your sink and hob can only be installed once your worktops are fitted. At this point, your plumber and electrician will return to make the final connections to all your appliances.
Tiling/Decorating
With the main aspects of your kitchen installation complete, all that remains is to finish decorating your space. This usually includes tiling the area around your sink and behind your hob.
How Long Does Kitchen Installation Take?
How long your kitchen installation takes will vary depending on the amount of work involved in your project. For example, removing an existing kitchen and knocking through to create an open-plan kitchen-diner will take much longer than installing a kitchen in a newly completed extension. A fully managed kitchen installation can take anywhere between 1 to 4 weeks. Temp and fit worktops can also add to the time it takes to complete your kitchen project.
How To Get Ready For Your Kitchen Installation
Whether you opt to do some of the work yourself or choose the fully managed option, there are a few things you will need to do before your project begins.
Empty Your Space
You will need to remove all your belongings from your kitchen, including emptying the cupboards and removing freestanding furniture and even artwork/mirrors. It can be sensible to remove fragile pieces from adjacent walls as vibrations caused by the work can affect adjoining rooms.
Make Alternative Cooking Arrangements
You could be without your kitchen for several weeks. You may want to consider arranging alternative facilities for tea/coffee making and cooking light meals elsewhere in your home.
Inform Neighbours
If you have neighbours close by, you may want to inform them of potential noise disruption. There may also be a number of work vans and deliveries coming and going, so you may need to make arrangements in terms of parking.
Make Plans To Be Available During Handover & Completion Days
You don't need to be home for the duration of your project. However, it can be helpful to meet your team on the first day to hand over the keys and answer any questions. You should also be available on the final day in order to check the work and sign off your project.
Can You Install Your Kitchen Yourself?
While some parts of the kitchen installation process are feasible to undertake yourself, such as removing existing units and decorating your space, other aspects are definitely best left to the professionals.
Managing a complex kitchen renovation can be time-consuming and stressful, especially if things don't go to plan, which can happen if you aren't experienced in overseeing a renovation project. The renovation process often involves many different steps, and any issues or delays can quickly have a knock-on effect in regards to the schedules you have agreed with various tradespeople. Opting for a fully managed installation process is the best way to ensure a smooth, prompt and hassle-free kitchen transformation.
We hope this guide has shed some light on the kitchen design and installation process, leaving you feeling confident about taking the next step towards making your new kitchen a reality. If you have any other questions about the kitchen design or installation process, please don't hesitate to contact our friendly expert team. You can call us on 01297 692250 or email [email protected].