If you're renovating your kitchen space, chances are the type of kitchen you'll be looking for is a fitted kitchen. However, as such an important part of your home and as a fairly substantial investment, choosing a new kitchen isn't quite as simple as going to the shops and picking a design up off the shelf. From appliances to door designs, there are a range of options to consider when planning your new kitchen, and one of the first things you will need to get to grips with are the different fitted kitchen styles. To give you a brief insight into the world of fitted kitchens and to help you take the next steps towards achieving your perfect new interior, we've created this handy article.
What Are Fitted Kitchens?
A fitted kitchen is made up of a series of built-in cabinets and appliances; most modern kitchens are fitted kitchens. The alternative would be a kitchen made of various freestanding pieces of furniture.
Though people have been preparing and cooking food for thousands of years, it wasn't until the Victorian era that what we would now recognise as a kitchen came into being. In the Victorian kitchen, a table would be used for food preparation and a dresser for storage. Larders or pantries would be used to keep food, while washing up would be conducted in the scullery. As technology evolved, regular homes were built with smaller kitchens that often included a freestanding sink, enamelled or painted cupboards, and lino floors. It wasn't until the 1950's that American-inspired fitted kitchens were introduced to the UK. Since then, the fitted kitchen has survived various trends and fashions and is now considered the norm in homes throughout the UK.
A built-in or fitted kitchen design makes a fantastic solution to maximising space and achieving a practical layout. However, the modern kitchen isn't just about practicality. As the heart of your home, you will inevitably want to create a stylish and inviting space that's ideal for relaxing and spending time with friends. Concealing appliances like dishwashers and refrigerators will help create a sleek and sophisticated backdrop, but you will also want to give plenty of thought to the visual details of your design. In the next section, we're going to look at the range of fitted kitchen styles you have to choose from.
Traditional Fitted Kitchens
Traditional kitchen styles can bring a homely and classic look to your space. However, with the right accessories, finish and design details, they can also create a sophisticated and contemporary feel. With such a rich and long-standing design heritage behind them, traditional fitted kitchens are often considered one of the most timeless choices.
Shaker Kitchens
Having maintained popularity for over 300 years, the shaker kitchen is undeniably one of the most loved fitted kitchen styles around today. The iconic framed design offers a touch of classic detailing, introducing character while retaining a clean and elegant aesthetic. The shaker kitchen is incredibly versatile. Opting for a striking dark colour scheme alongside luxurious modern worktops and accessories will create a stunning contemporary statement. Alternatively, neutral greys, warm beiges and classic features such as plate racks, decorative cornicing and glass-fronted cupboards will help establish a wonderful, cosy and traditional atmosphere.
In-Frame Kitchens
In-frame kitchens are often designed with a shaker door; however, their construction is very different. Most shaker kitchens feature a lay-on door, where the door is mounted to the front of the cabinet. With an in-frame kitchen, a frame is mounted to the face of the cabinet, the door then sits within this frame. Kitchens constructed in this way are more durable, but since they are more complex to craft, they often come with a hefty price tag. At PB Home Solutions, our fantastic Masterclass fitted kitchen collection includes a stunning in-frame effect range that offers the same luxurious looks for an affordable price. You can find out more by visiting our Devon design studio or giving our friendly team a call.
Raised & Fielded Kitchens
This type of kitchen gets its name from the raised panel at the centre of the door. The framed design is similar to that of the shaker kitchen, but the raised centre and optional beading add an extra level of detail and intricacy to create a more elaborate, classically inspired look. Raised and fielded kitchens make a wonderful choice for period properties and those seeking a more traditional and charming kitchen style.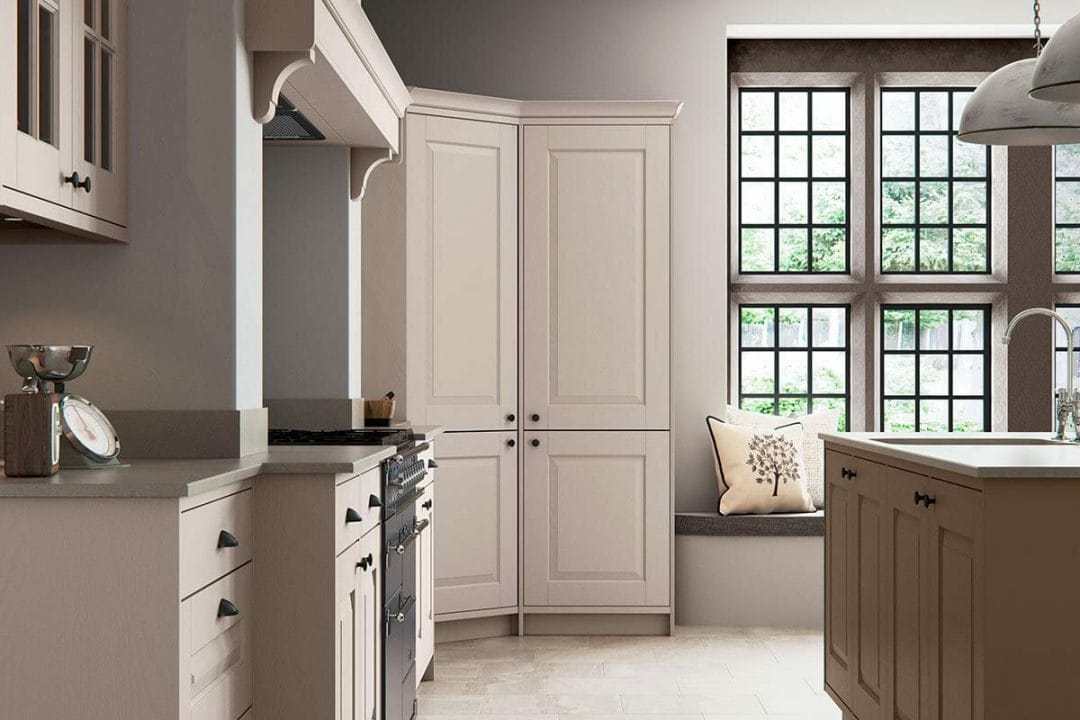 Modern Fitted Kitchens
Modern fitted kitchens are characterised by clean lines and simple detailing. Taking a more minimalistic approach, modern fitted kitchens are ideal for establishing a stylish and uncluttered backdrop to open-plan living spaces. While traditional fitted kitchens are commonly available in painted and natural wood finishes, contemporary kitchens come in a much more diverse range of surface textures and colours, ranging from sleek gloss and dramatic stone effects to soft and understated matt hues.
Flat Panel/Slab Kitchens
Typified by a beautifully sleek and crisp run of flawlessly smooth doors, a flat panel fitted kitchen makes a discreet canvas around which to base your interior. Operating much like a traditional kitchen, handles are required to open and close the doors. Your choice of handle can add a stunning finishing touch to your design. Round knob handles make a quirky Scandinavian-inspired feature while edge trim handles will create a truly minimal effect.
Handleless Kitchens
First invented in Germany in the 1960s, handleless kitchens are synonymous with precision, style and quality. True handleless kitchens are based on a rail system. The rail creates a carefully engineered gap behind the door itself, allowing the user to open and close the cupboard or drawer with ease. Other systems include push to open mechanisms and integrated J-trim handle pulls. Since handleless kitchens function a little differently from other kitchen types, we recommend visiting your local kitchen design studio to try one out for yourself. The true handleless system is the most durable and long-lasting option, which is why, at PB Home Solutions, we only supply true handleless kitchens. The pristine finish and uninterrupted profile of a handleless kitchen make an impressively elegant and sophisticated statement.
Finding The Perfect Fitted Kitchen For Your Home
Thinking Ahead
From setting a budget and choosing a design style, to planning your layout and selecting appliances, there are plenty of considerations to bear in mind when creating your perfect fitted kitchen. And as such a complex and important space it's undoubtedly wise to dedicate some time to giving these considerations some thought. The best way to start is by outlining your brief. Your brief should clarify who will use your kitchen and how. This will give you a basis upon which to begin narrowing down what kind of look and feel you'd like your kitchen to have, as well as helping you finalise your individual practical requirements. For more guidance on planning your fitted kitchen, please click here.
Creating A Beautiful Bespoke Design
These days kitchens are much more than just a place to cook, and so it's important your interior captures the essence of your home and creates a wonderful space to enjoy spending time in. Your fitted kitchen type, colour scheme, worktops, appliances and even storage choices all contribute to the visual style and atmosphere of your space, and with so many options to choose from, it can be tricky knowing where to start. Browsing magazines, kitchen brochures and online resources like Pinterest and Houzz can help you find inspiration that you may want to share with your kitchen designer during your design appointment. You can also explore some of the latest fitted kitchen design trends by clicking here to read our blog, or for more support, please don't hesitate to get in touch with our friendly expert team.
We hope this article has helped you understand a little more about fitted kitchens and the many different styles available. If you're planning an upcoming kitchen renovation and you'd like some more tips on how to begin your project, then we'd love to hear from you. You can call us on 01297 692250 or email us at [email protected].